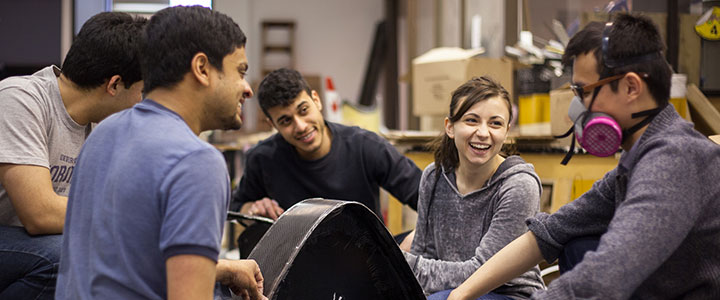 Every year, the University of Toronto Engineering Alumni Network (EAN) grants funding to various engineering student clubs ranging from stress release to robotics and from the orchestra to iron sports. Thanks to generous donations from alumni, students, faculty, staff, parents and friends of the Faculty, the Skule™ Fund for Education is able to continually enhance the student experience at U of T Engineering.
The sponsorship of student clubs leaves a direct and lasting impact — students are able to grow outside of the classroom through professional development and networking opportunities. Participation in co-curricular and extra-curricular clubs also helps to build soft skills, interests and relationships that last long after graduation.
Student Club Funding Report
During the 2015–2016 school year, a total of $263,036 was granted to 108 clubs.
Our 2015–2016 Student Club Funding Report provides a detailed breakdown of the number of applications and the total amount granted to clubs during the last year, followed by summaries of the impact that the funds have made on engineering students.
Donate to the Skule™ Fund for Education
With your generous donations, you help make the Skule™ Fund for Education a reality. You can donate securely online, and specify "Student Club Funding" if you wish to target your giving.
Apply for Student Club Funding
Engineering students participating in student clubs across the Faculty and University are eligible to apply for funding. Funding must demonstrate how your club/organization/team will:
Advance the mission of the Faculty of Applied Science & Engineering, the Engineering Alumni Association and/or the Engineering Society;
Promote the importance of engineering as a profession;
And/or contribute to the improvement of the student experience.
Please note: The 2016–2017 funding process is moving to a single annual cycle with the fall 2016 application deadline.
The Centralized Process for Student Initiative Funding (CPSIF) will be moving from three cycles to a single cycle for the 2016–2017 academic year, with a fall 2016 deadline for student club applications. Clubs are encouraged to start considering their plans for the next school year in preparation for requesting all funding for 2016–2017 in their fall applications. Requests for funding should cover the period from September 2016 to October 2017.
For complete information and the application, please see the Centralized Process for Student Initiative Funding (CPSIF) form.