stephanie.ordon@ecf.utoronto.ca | 416-978-4941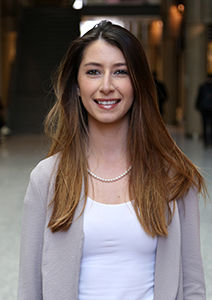 Stephanie manages a variety of programs and events including Spring Reunion, Convocation, the Engineering Alumni Association Awards Dinner, Iron Ring Ceremony and the Alumni Mentorship Program. She also provides ongoing support to volunteers of boards and committees, including Engineering Alumni Association's Honours and Awards, Alumni Mentorship Program and Skule™ Ambassadors.
Prior to joining U of T, Stephanie worked at Habitat for Humanity Greater Toronto Area where she planned and executed signature fundraising events as well as developed long-term cultivation and stewardship strategies for key leadership volunteers, donors and sponsors.
She holds degrees in history and political science from Wilfrid Laurier University and a master's degree in international relations from York University.