To add an event, please contact us. Find out about all U of T Engineering events here or visit utoronto.ca/events for information on events across the university.
May
4
Thu
Bay Area Skule™ Alumni Reception with Professor Olivier Trescases

@ Intel Programmable Solutions Group, Building #3
May 4 @ 5:00 pm – 8:00 pm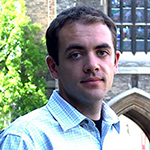 Meet one of the most enterprising professors working with U of T Engineering today! Join fellow alumni for an evening of networking, food and a special talk presented by Professor Olivier Trescases from The Edward S. Rogers Sr. Department of Electrical & Computer Engineering.
Electric vehicles (EVs) represent the ultimate convergence of advanced engineering technologies. The global commitment to aggressively reduce emissions, combined with the nearly 95 million conventional cars produced yearly, points to a massive growth potential for EVs. Nearly every country with an established automotive manufacturing base is competing to become a leading exporter of EV technology, and the stakes are high.
Professor Trescases's talk will highlight several exciting industry collaborations, and the story of the "little yellow car," leading up to the creation of the U of T Havelaar EV Research Centre that will unleash U of T's unique multi-disciplinary research capabilities.
Refreshments and hors d'oeuvres to be served. Please bring valid photo ID to the event for check-in.