Spring Reunion 2017
Wednesday, May 31 – Saturday, June 3
This year, we're celebrating graduating classes with years ending in 2 or 7. We look forward to seeing you back on campus!
For registration instructions, directions and accommodations information please visit springreunion.utoronto.ca/faq.
To quickly find all U of T Engineering events:
Select "View and Register for Spring Reunion Events"
Filter by "Faculty" by selecting "Applied Science and Engineering"
Click  "Apply Filter"
For all other Spring Reunion inquiries, please contact Stephanie Ordon, Alumni Relations Officer, at 416-978-4941.
Events – June 2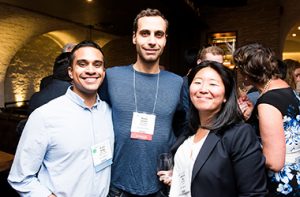 Skule™ Social for Young Alumni
7 p.m. – 10 p.m.
SpiritHouse Toronto
$25 Alumni | $30 Guest
REGISTER
Get social at the SpiritHouse! Enjoy craft cocktails and tasty eats while reconnecting with classmates. Ticket includes two drinks and hors d'oeuvres.
Honouring the classes of 1T2 and 0T7.
Events – June 3
Skule™ Headquarters
10 a.m. – 4 p.m.
Bahen Centre for Information Technology
FREE (light refreshments will be served)
Registration & Welcome: Check in and pick up your name badge, campus map, event information, and more.
Meet & Greet: Dean Cristina Amon and Engineering Society Executives look forward to welcoming you back to campus.
Student Skule™ Fair: Check out the Formula SAE Racecar, UTRA robots and other student club displays.
Discover the research and design work of the next generation of engineering leaders!
Donor Appreciation Gift: Volunteers will be on hand to accept your reunion donation. Skule™ Society donors are invited to pick up their cannon lapel pin and special reunion treat.
Photobooth
Iron Ring Replacement Refreshments Station, Alumni Lounge, Skule™ Engineering Store, and so much more!
Centre for Engineering Innovation & Entrepreneurship Hard Hat Tours
11:45 a.m. and 2:45 p.m
Bahen Centre for Information Technology
FREE
Tour U of T Engineering's newest building, the Centre for Engineering Innovation & Entrepreneurship. Tours leave from the Bahen Centre for Information Technology lobby promptly at 11:45 a.m. and 2:45 p.m. Flat, closed-toe shoes are mandatory.
Skule™ Kids
11:30 a.m. – 4 p.m.
Bahen Centre for Information Technology
$30/child (includes lunch, materials & T-shirt)
REGISTER
Children and grandchildren of alumni in Grades 1-8 are invited to join interactive workshops led by enthusiastic graduate and undergraduate student instructors. Limited spots available.
Session Schedule
Registration 11:30 a.m. – 12 p.m.
Activity One: 12 p.m. – 1:30 p.m.
Lunch: 1:30 p.m. – 2:30 p.m.
Activities 2 & 3: 2:30 p.m. – 4 p.m.
Departmental Events
12:30 p.m. – 2:30 p.m.
FREE
Reconnect with classmates and professors at a variety of departmental luncheons, tours and talks. Visit springreunion.utoronto.ca to see your departmental itinerary.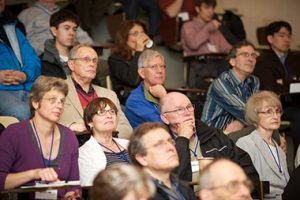 Stress-Free Degree Lectures: Engineering Today
2:30 p.m. – 3:30 p.m.
Sydney Smith Hall
FREE | REGISTRATION REQUIRED
REGISTER
Bust out your backpack and dust off your calculator, it's time to learn from U of T Engineering's top professors. The best part? No homework!
Lecture #1 – Education of Tomorrow in Engineering's Newest Building
Professor Emeritus Ron Venter (MIE)
Lecture #2 – Making Models that Matter: Engineering Skeletal Muscles in a Dish
Professor Penney Gilbert (IBBME)
Lecture #3 – Too Hot, Too Cold, Or Just Right: Thermal Comfort in High-Rise Apartment Buildings
Professor Marianne Touchie (CivE)
Galbraith (Beer) Garden Party
2:30 p.m. – 5 p.m.
Galbraith Building Courtyard (Room 173)
$25 Alumni | $30 Guest (Kids FREE)
REGISTER
How many engineers does it take to make a beer garden? Come back to campus to find out! Enjoy drinks, snacks and play outdoor games while reminiscing about the good ol' Skule™ days.
Honouring the classes of 0T2 and 9T7.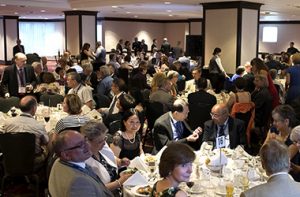 Engineering Reception & Dinner
6 p.m. – 11p.m.
Hyatt Regency Toronto*
$100 (Early bird rate until May 19) | $120
REGISTER
Rediscover your alma mater, reunite with friends and renew your Skule™ spirit. Expect an appearance from the Lady Godiva Memorial Bnad and the Ye Olde Mighty Cannon. Medals and pins will be awarded to alumni celebrating milestone anniversaries.
Honouring the classes of 3T7, 4T2, 4T7, 5T2, 5T7, 6T2, 6T7, 7T2, 7T7, 8T2, 8T7, 9T2 and 9T7.
* To book a room at the Hyatt, call 416-343-1234 and ask for the University of Toronto – Faculty of Applied Science & Engineering rate.
Become a Skule™ Ambassador
Skule™ Ambassadors are essential to keeping your class connected with Skule™. We are looking for alumni volunteers who keep in touch with their classmates and are willing to act as spokespeople for their graduating class. Skule™ Ambassadors work closely with the Alumni Relations team to suggest possible activities for Spring Reunion, contact members of their class and encourage their classmates to support the Faculty of Applied Science & Engineering.
If you are interested in volunteering as a Skule™ Ambassador, please complete the online form or contact Stephanie Ordon at stephanie.ordon@ecf.utoronto.ca or 416-978-4941.