caitie.spears@ecf.utoronto.ca | 416-946-0372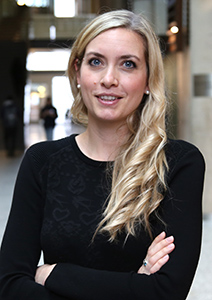 Caitie is a senior member of the major gifts team and provides strategic advice on Faculty-wide initiatives. She works with academic leadership on fundraising initiatives in support of key priorities for The Edward S Rogers Sr Department of Electrical & Computer Engineering (ECE) and the Institute for Biomedical & Biomaterials Engineering (IBBME). Additionally, she leads major gift activities in California on behalf of the Faculty.
Caitie has spent most of her fundraising career in health care, working with major gift donors and volunteers at Trillium Health Partners Foundation and the Oakville Hospital Foundation. Prior to beginning her fundraising career, Caitie worked in project management in the financial services industry.