The BizSkule Speaker Series is presented by Bennett Jones

Event details:
Date: Wednesday, Feb. 25, 2015
Time: 6-8:30 p.m.
Location: Perkins Coie LLP
3150 Porter Drive, Palo Alto, Calif.
Cost: Free
Passwords. PIN codes. Security cards. Our daily lives are inundated with security measures intended to prove our identity to the devices and systems around us. Security breaches are, however, becoming all the more common, and convenience has been largely sacrificed in an effort to stay ahead of adversaries.
But innovations in biometrically-enabled wearable technology promise to render hackable passwords and stolen ID a thing of the past. Identity authentication is now becoming wearable, persistent and completely seamless, all enabled by your unique cardiac signature.
Join us at BizSkule for a heart-to-heart with Karl Martin (EngSci 0T1, ECE MASc 0T3, PhD 1T0), the alumnus behind the revolutionary Nymi Band, as he discusses the future of wearable technology, digital security and biometric authentication with moderator and alumnus George Babu (EngSci 0T0).
Thank you to our venue sponsor:


Visit  startupPerColator, one of Perkins Coie's most innovative initiatives for emerging companies!
Speaker: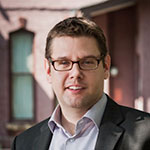 Karl Martin
(EngSci 0T1, ECE MASc 0T3, PhD 1T0)
Founder & CEO, Nymi
View bio
Karl Martin is the CEO and founder of Nymi (formerly known as  Bionym). His passion lies in building things – things that surprise, delight and make you do a double take. Nymi is creating the first wearable biometric authenticator, known as the Nymi Band. Pre-launched late in 2013, with first shipments delivered in December 2014, the Nymi Band has gained worldwide attention, being covered in
Wired
,
Popular Science
,
The New York Times
,
BBC
,
The Economist
,
Forbes
, and many others. Nymi also raised a $14-million Series A investment, led by Ignition Partners and Relay Ventures.
Beyond building things, Martin is also passionate about creating compelling stories, and sharing his experiences with the startup community. You will frequently find him speaking at startup and technology events, as well as giving workshops on effective storytelling. He holds a BASc, MASc and PhD in engineering science, all from the University of Toronto, with expertise in the areas of biometrics, cryptography and privacy. Prior to starting Nymi, he led a small consulting company, creating custom biometric systems for industrial and government clients. He is also an active volunteer in the Institute of Electrical and Electronics Engineers (IEEE), serving as the Toronto section vice-chair.
Moderator: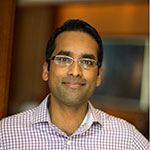 George Babu
(EngSci 0T0)
Technology entrepreneur & investor
View bio
George Babu is a technology entrepreneur, angel investor and former venture capitalist. He is fascinated by technology's impact on our lives, iconic blockbuster products that once seemed like science fiction, and teams that overcome nearly insurmountable odds to bring products and technologies into daily use.
He serves on the Engineering Science Advisory Board at the University of Toronto where he is helping launch a robotics option. He is completing a fellowship with the Kauffman Institute for Venture Training, exploring how private equity can help early-stage companies that use exponential technologies to tackle the big challenging problems of our time.
Babu began his career at BlackBerry, witnessing first hand the iconic firm's rise from underdog to disruptor, from the BlackBerry in 1998 to the launch of Apple's iPhone in 2007.
In 2008, while in business school, he helped Daniel Debow and David Stein co-found Rypple, social enterprise platform used by Facebook, Mozilla, Spotify and LinkedIn. He served as head of finance and operations, helping secure $13 million in venture capital and scaling the company to a successful exit in 2012 to Salesforce for over $65 million.
In 2012, Babu moved to San Francisco to serve as GC and head of U.S. operations at Wrapp, a Greylock venture-backed mobile commerce company, helping negotiate strategic partnerships and growing the team in the U.S.
In 2013, he returned to Toronto to serve as a director in the venture capital fund of the $100-billion OMERs pension fund. He worked on investments in InteraXon's Series A (investors of Muse, a brain-sensing headset), Shopify's $100-million Series C (commerce platform used by 100,000 merchants worldwide selling $5 billion of merchandise annually), and Wattpad's $46-million Series C (worldwide community of 35 million people creating and sharing stories).