The 2018 BizSkule Speaker Series is presented by Bennett Jone

BizSkule event details
Date: Thursday, May 24, 2018
Time: 5:30-8:00 p.m.
Location: Bennett Jones, 4500 Bankers Hall East
855 2nd Street SW, Calgary, Alta.
Cost: Free!
Professor Mark Fox (MIE) from the University of Toronto's Faculty of Applied Science & Engineering presents an engaging seminar on how U of T is establishing itself as a driving force for city-building and urban innovation.
Don't miss this exciting opportunity to make important connections and network with your fellow U of T alumni, and to learn more about this exciting initiative for developing cities and allowing their citizens to thrive.
The University of Toronto recently approved the creation of the School of Cities. The goal of the new School of Cities is be a world-leading centre for innovative, interdisciplinary urban research, education, and engagement and a place where diverse communities come together to spark new insights and design creative ways for cities and their citizens to thrive. Find out how urban-focused researchers, educators and students are tackling the most complex urban challenges, and what these solutions could mean for our alumni in Alberta and abroad.
Gain insights from one of U of T's most enterprising professors on the future of cities, as well as a chance to network with fellow U of T grads over cocktails and canapés.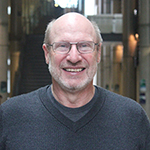 Mark Fox (MIE)
Distinguished Professor of Urban Systems Engineering
Department of Mechanical & Industrial Engineering
View bio
Dr. Mark Fox is a professor of industrial engineering and computer science where his current research applies artificial intelligence to smart cities. He received his BASc in Computer Science from the University of Toronto in 1975 and his PhD in Computer Science from Carnegie Mellon University in 1983, where he was an associate professor (tenured) of Computer Science and Robotics. He was a founding member of Carnegie-Mellon's Robotics Institute.
From 1981 through 1987 he founded and led the Robotics Institute's Intelligent Systems Laboratory, and from 1987 through 1991 he co-founded and led the Center for Integrated Manufacturing Decision Systems. In 1993 Dr. Fox co-founded Novator Systems Ltd., a pioneer in out-sourced eRetail services and software. In 1984 he co-founded Carnegie Group Inc., one of the first companies to apply artificial intelligence to solving engineering, manufacturing and telecommunications problems. He is a Fellow of the American Association for Artificial Intelligence (AAAI) and the Engineering Institute of Canada.
Visit the BizSkule website for information about future panel topics and a complete archive of previous events.