The 2016 BizSkule Speaker Series is presented by Bennett Jones

BizSkule event details
Date: Thursday, June 23, 2016
Time: 5-8 p.m.
Location: Juniper Networks
1194 N Mathilda Ave, Sunnyvale, Calif.
Cost: FREE!
Deep learning will transform medicine, but not in the way that many advocates think. Biological complexity, rare mutations and confounding factors work against us, so that even if we sequence 100,000 genomes, it won't be enough.
Professor Brendan Frey (ECE) will present the "genotype-phenotype gap" and how the value of closing this gap exceeds Google's $200B ad market. Using machine learning systems that properly incorporate biological knowledge, Frey will describe this approach, how it has improved our ability to read the genome and could be an indispensable component in the future of medicine.
Gain insights from one of U of T's leading researchers on the future of machine learning and health care, as well as a chance to network with fellow U of T grads over cocktails and canapés.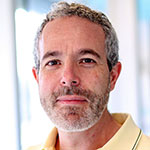 Professor Brendan Frey (ECE)
CEO and Co-Founder, Deep Genomics
View bio
Brendan Frey (ECE) is the CEO and co-founder of Deep Genomics and a professor in the The Edward S. Rogers Sr. Department of Electrical & Computer Engineering at the University of Toronto. He has made fundamental contributions in the areas of machine learning and genome biology, and is widely known for his work on using machine learning to understand how genetic variation leads to disease.
Frey has received numerous distinctions and is a Fellow of the Royal Society of Canada and a John C. Polanyi Fellow. Frey has consulted for over a dozen companies and universities in the United States, Canada and England, and has served on the Technical Advisory Board of Microsoft Research. His former students and postdoctoral fellows include professors, industrial researchers and developers at universities and industrial laboratories across the United States, Canada and Europe.
Visit the BizSkule website for information about future panel topics and a complete archive of previous events.