The 2016 BizSkule Speaker Series is presented by Bennett Jones

BizSkule event details
Date: Thursday, November 24, 2016
Time: 6-8:30 p.m.
Location: Bennett Jones, 100 King St. West, #3400
Toronto
Cost: $25 (alumni & non-alumni) | $15 (students)
Join us for our latest BizSkule event. Panellists from a wealth of financial services backgrounds will be on hand to discuss the rapid growth of financial technology (FinTech) startups and services, their potential for both challenging and growing traditional financial systems, and how engineering plays a role in their development for the future.
Gain insights from three enterprising engineers who have become innovators in this exciting new sector, as well as a chance to network with fellow U of T alumni and friends over cocktails and canapés.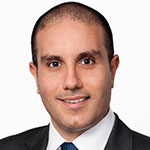 Imad Ferzli (MASc ECE 0T3, PhD 0T9)
Assistant Portfolio Manager, Global Systematic Investment
Ontario Teachers' Pension Plan
View bio
Imad Ferzli (MASc ECE 0T3, PhD 0T9) is an assistant portfolio manager of capital markets with Ontario Teachers' Global Systematic Investments team, managing a cross-asset model-driven portfolio and developing new quantitative trading strategies. Prior to this, he was with the Fixed Income group at Ontario Teachers', where he helped manage a portfolio of interest rates and credit strategies, and was involved in several new and strategic fixed income business initiatives.
Prior to joining Ontario Teachers' in 2011, Ferzli spent two years at the Canada Pension Plan Investment Board. He holds a PhD in Electrical and Computer Engineering from the University of Toronto and is an advocate of a stronger role for technological innovation in the capital markets space.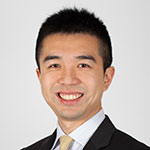 Alvin Mok (EngSci 0T3)
Global Manager
Orbis Investments
View bio
Alvin Mok (EngSci 0T3) is the global retail head at Orbis, a global investment management firm. He leads the group's strategy formation and technology development, and is currently managing a team of 60 people. He is also a member of Orbis' Operating Council and Global Risk Committee, providing strategic input to firm-wide resource allocation and project oversight.
Prior to joining Orbis, Mok was an engagement manager at McKinsey Hong Kong, where he was actively involved in high-tech and infrastructure practices. Earlier in his career, he was a venture capitalist, held positions in Microsoft, and founded his own startup as a student at the University of Toronto.
Mok holds an MBA from Harvard Business School (Baker Scholar), where he was also the CEO of the student ventures and COO of student government. He graduated from U of T Engineering with the highest cumulative university-wide average (Governor General Award recipient).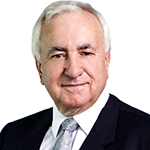 Frank Palmay (EngSci 7T2)
Partner & Co-Chair Financial Services Regulatory Practice
McMillan LLP
View bio
Frank Palmay (EngSci 7T2) is a partner at McMillan LLP, as well as co-chair of the Financial Services Regulatory Practice. Palmay's practice consists of general corporate and commercial law with particular emphasis on insurance matters, health, technology and mining exploration. In the insurance area, he has advised on insurance and reinsurance company acquisitions, domestications and reorganizations; policy drafting and review and regulatory approvals; direct marketing; strategic planning and coverage issues. For a number of years, Palmay has also advised several organizations in the not-for-profit and health-care sectors, providing counsel on a wide range of areas including governance, strategic alliances and general commercial matters, including his work as chair of Lifeline Syria.
Palmay is a prolific author and writes regularly for the firm's bulletin, Gain Insight. In 2014, Mondaq named Palmay a top contributor, ranking within the top 20 per cent of all authors internationally, for his articles on insurance, privacy and data protection, and corporate and commercial law.
A graduate of U of T Engineering, Palmay was a Commonwealth Scholar, and received the gold medal in Engineering Science as an undergrad. He received his doctor of law degree (JD) from the University of Toronto in 1976.
Dan Rosen (ChemE MASc 9T1, PhD 9T3)
Director, Centre for Financial Industries
The Fields Institute For Research In Mathematical Sciences
View bio
Dr. Dan Rosen (ChemE MASc 9T1, PhD 9T3) is a FinTech entrepreneur and an expert in quantitative analysis.
He is currently a visiting researcher and the first director of the Centre for Financial Industries at the Fields Institute for Research in Mathematical Sciences, as well as an adjunct professor of mathematical finance at the University of Toronto.
Dr. Rosen was the co-founder and CEO of R² Financial Technologies. A successful risk and portfolio management technology firm serving multi-asset hedge funds, asset managers, banks and regulators across the world, R² was originally incubated at the Fields Institute, and then acquired by S&P Capital IQ in 2012, where Dr. Rosen served as the managing director for risk and analytics until 2015.
In addition to working with numerous financial institutions around the world, he lectures extensively on financial engineering, portfolio management, enterprise risk and capital management, credit risk and market risk, valuation of derivatives and structured finance. He has authored numerous risk management and financial engineering publications, including two books, and several patents, and serves in the editorial board of various industrial and academic journals, including Quantitative Finance, Journal of Risk Management in Financial Institutions, Journal of Credit Risk, and Esotocastica.
Dr. Rosen was inducted in 2010 a Fellow of the Fields Institute for his "outstanding contributions to the Fields Institute, its programs, and to the Canadian mathematical community." He currently serves in the Board of Directors of the Fields Institute, as well as in the Advisory Boards of Canada's Institute Innovation Platform (IIP), the International Association of Quantitative Finance (IAQF), the Global Risk Institute (GRI) the Center for Advanced Financial Studies at the University of Waterloo, and the Troost Institute for Leadership Education in Engineering (Troost ILead) at the University of Toronto.
He is one of the founders of the Professional Risk Management International Association (PRMIA), where he served as regional director in Toronto, and of RiskLab, an international network of research centers in Financial Engineering and Risk Management, initiated at the University of Toronto. He was also a member of the Fitch Academic Advisory Board and the Oliver Wyman Institute.
He holds an MASc and PhD in chemical engineering from the University of Toronto, and was a postdoctoral fellow and research associate at the Centre for Management of Technology and Entrepreneurship (CMTE). His BASc is in chemical engineering from the Universidad Autonoma Metropolitana, in Mexico City, where he was also recently awarded the recognition of Distinguished Alumni in 2015.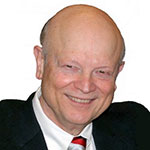 Professor Emeritus Joe Paradi (MIE)
Executive Director
Centre for Management of Technology and Entrepreneurship
View bio
Since his childhood in Budapest, Hungary, and immigrating to Canada as a youngster, Professor Emeritus Joe Paradi (MIE) has spent over five decades building something — starting with an education.
He completed high school in Toronto, then attended the University of Toronto where he obtained a degree in Chemical Engineering, followed by MASc and PhD degrees.
After graduation he entered into the business world and founded Dataline Inc. in 1968. The company was very successful, engaged in the time-sharing of computer services business, and grew to be worth $25-million. Paradi sold the company in late 1987 and left in January 1989 after 20 years at the helm. He started teaching part-time during the early 1980s when the first lectures in "Innovation and Entrepreneurship" were delivered.
Today, he is the executive director of the Centre for Management of Technology and Entrepreneurship and holds the Chair in Information Engineering at the Faculty of Applied Science & Engineering. He teaches/organizes eight courses in entrepreneurship and business, and small business management. His research activities focus on the financial services industry and currently include the supervision of a group of three graduate students working on their master's and doctorate.
He has advised 16 PhD candidates, supervised about 70 MASc students and over 180 undergraduate theses involving 250 students. He is the co-author of 58 peer-reviewed papers, three books and five book chapters. He has participated in conference sessions and acted as chairman, moderator and keynote speaker in over 50 events.
Paradi is a member of Professional Engineers Ontario and a Fellow of the Canadian Academy of Engineers.
Visit the BizSkule website for information about future panel topics and a complete archive of previous events.
---
Brought to you in partnership with the University of Toronto Affinity Partners: