The 2017 BizSkule Speaker Series is presented by Bennett Jones

BizSkule event details
Date: Thursday, June 1, 2017
Time: 5:30-8:30 p.m.
Location: Bennett Jones, 4500 Bankers Hall East
855 2nd Street SW, Calgary, Alta.
Cost: Free!
Join us for our latest BizSkule event. Professor Lesley Warren (CivE) from the University of Toronto's Faculty of Applied Science & Engineering presents an engaging seminar on how the bacteria around us can transform the way mines operate.
Look around you — what you don't see is the invisible microbial world that inhabits, interacts with, and impacts every planetary niche examined so far from your intestinal gut to deep sea hydrothermal vents. These microbes engineer the planet, living and breathing by many different pathways. In fact, most of them don't breathe oxygen. Mining environments are no different; just far less studied. New genomics technologies enable us to drill into the DNA of these bacteria and reveal what has eluded us for so long: what are they doing and how do they do it?  By combining this new biological understanding with geochemical characterization, Professor Warren's research is developing innovative new tools to better design, manage, operate and close mines.
Gain insights from one of U of T's most enterprising professors on the future of mining, as well as a chance to network with fellow U of T grads over cocktails and canapés.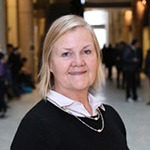 Dr. Lesley A. Warren (CivE)
Claudette Mackay-Lassonde Chair in Mineral Engineering
Department of Civil Engineering
View bio
Dr. Lesley Warren (CivE) completed her BSc and PhD (Environmental Sciences) at the University of Toronto, followed by PDFs at the Université du Québec (INRS-ETE) in Aquatic Chemistry and the University of Toronto in Geomicrobiology. She left McMaster University, where she was a professor in earth sciences, to join the University of Toronto in January of 2016 as the Claudette Mackay-Lassonde Chair in Mineral Engineering.
Dr. Warren's multidisciplinary program identifies the opportunities to innovate mining environmental management through integrated geochemical and genomics investigation of mining waste contexts. Identified as an NSERC visionary for the environmental earth sciences community, Dr. Warren has brought in over $12,000,000 in energy sector and mining industrial partnered research, trained over 40 HQP and given 20 keynote/invited talks, including invited presentations to MPs and Senators on Parliament Hill over the last five years. In addition, she developed "Green Mining," a nationally recognized high school science outreach program targeting mining and rural areas across the country.
Visit the BizSkule website for information about future panel topics and a complete archive of previous events.