Details:
Date: Wednesday, May 10, 2017
Time: 12-2:45 p.m
Location: Toronto Plaza Hotel
Cost: $30
Join us for lunch and learn more about the Invictus Games from Michael Burns, CEO of Invictus Games Toronto 2017. Over 550 competitors, representing 17 nations in 12 different sports, and supported by 1,500 volunteers, contribute to making this event a success.
Established by Prince Harry of Wales in 2014, the Invictus Games are the only international adaptive sporting event for ill, wounded and injured active duty and veteran service members. Taking place from September 23-30, the 2017 Games will introduce the first-ever Invictus Games relay, igniting the Invictus Games spirit across Canada. But, compared to Paralympic activities, Invictus Games has a totally different focus beyond simply the competitions — hear the rest of the story at this presentation.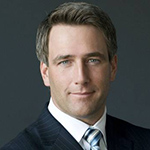 Michael Burns
CEO, Invictus Games Toronto 2017
View bio
Michael Burns is CEO of Invictus Games Toronto 2017. He is co-founder of the True Patriot Love Foundation, which supports Canada's military, veterans and their families. In June 2016, Canada's Governor-General, on behalf of the Queen, awarded Burns the Meritorious Service Cross for his work with military families. In 2012, he was awarded the Canadian Forces Medallion for Distinguished Service, the military's highest honour for a civilian. Named in 2010 as one of Canada's Top 40 Under 40, he also chairs the Board of Garrons' Hospital Foundation (formerly East General Hospital) and serves on the Board of Directors of Roy Thomson Hall and Massey Hall.

Visit the Skule™ Lunch & Learn website for information about future topics and a complete archive of previous events.