Details:
Date: Wednesday, May 9, 2018
Time: 12:00-2:45 p.m
Location: The Toronto Plaza Hotel, 1677 Wilson Ave., North York
Cost: $30
What's next for Canada in the post Paris-agreement period, especially with the hostility shown by the Trump Presidency? What are the innovation and engineering challenges involved in moving a high carbon state like Canada to make the transition to a low carbon economy? David Runnalls' career has involved working with politicians, economists, technology players and monitoring agencies. Join fellow alumni as he brings his perspective on a pragmatic approach to addressing these issues.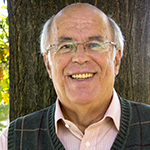 David Runnalls
Chairman of the Board, Pembina Institute
Distinguished Fellow, Centre for International Governance
View bio
David Runnalls is chairman of the board of the Pembina Institute, a distinguished fellow at the Centre for International Governance in Waterloo and former president at the International Institute for Sustainable Development. He is the chair of the International Centre for Trade and Sustainable Development in Geneva as well. He also lectures on the political economy of climate change at the University of Ottawa. He holds a master's degree in international affairs from Columbia University after receiving a B.A. in political science from Victoria College, University of Toronto.
Visit the Skule™ Lunch & Learn website for information about future topics and a complete archive of previous events.