Details:
Date: Wednesday, December 13, 2017
Time: 12-2:45 p.m
Location: The Toronto Plaza Hotel, 1677 Wilson Avenue
Cost: $30
Cities across North America are turning to green infrastructure to meet the increasing infrastructure demands caused by population growth, urbanization and climate change.
Join us for lunch as Professor Jennifer Drake (CivE) presents examples of studies that demonstrate the environmental benefits of green infrastructure and low impact development including flood control, water quality, habitat protection and multi-function public space.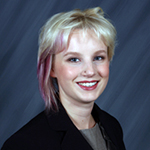 Jennifer Drake
Professor, Department of Civil Engineering
View bio
Jennifer Drake is a professional engineer and assistant professor in the Department of Civil Engineering, cross-appointed with the John H. Daniels Faculty of Architecture, Landscape and Design. She is an expert in urban flood management and green infrastructure. Her research group specializes in emerging technologies including green roofs, rain gardens and permeable pavements. When there is flooding in Toronto you're likely to hear or see Professor Drake speaking on CBCradio, CBCnews, Global TV or CityTV.
Professor Drake joined U of T Engineering in January 2013. She is a researcher with the Green Roof Innovation Testing Laboratory (Gritlab) and teaches hydrology and hydraulics, water resources engineering and stormwater management. She currently has research studies underway in: permeable pavement restoration, bioretention best management practices, winter stormwater management, photovoltaic-vegetative roof integration, engineering education and neighbourhood-level low impact development design.
Visit the Skule™ Lunch & Learn website for information about future topics and a complete archive of previous events.