Details:
Date: Wednesday, January 10, 2017
Time: 11:30-1 p.m
Location: The Faculty Club, 41 Willcocks St.
Cost: $20 Sold out!
Augmented reality (AR) and artificial intelligence (AI) are literally changing how we can view the world every day. AR and AI are changing many industries, including the retail industry. Featuring Professor Parham Aarabi (ECE), this talk will show how AR & AI are innovating the beauty industry. Through his presentation, Professor Aarabi will show how his company, ModiFace, is innovating through live video face tracking, lighting simulation and AI for feature detection.
Please note
This event is now at capacity. If you would like to be added to the wait list, please email Steve Radbourn.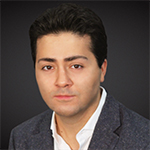 Parham Aarabi
Professor, The Edward S. Rogers Sr. Department of Electrical & Computer Engineering
View bio
Parham Aarabi received his PhD from Stanford University in electrical engineering in 2001. Since then, he has served two terms as a Canada Research Chair. He is the author of over 100 scientific publications and two books. In 2005, he was selected by MIT as "one of the world's top young innovators" and in 2006 received the Premier's Catalyst Award for Innovation. In 2015, he received the University of Toronto Inventor of the Year award. Parham is also the founder of ModiFace Inc., a facial-recognition technology provider.
Visit the Skule™ Lunch & Learn website for information about future topics and a complete archive of previous events.