Ajax Division
1945–1949: The Ajax Years
During the Second Word War, engineering training was considered so important that governmental encouragement motivated an increased enrolment — and well-directed Federal support following the conflict gave unprecedented educational opportunities to returning military personnel.
Through high-level governmental arrangements, permission was obtained to convert the munitions plant at Ajax (the largest in the British Commonwealth) to educational needs, with lecture rooms and laboratories, residential and recreational facilities.
The first classes were held on January 14, 1946 for first-year students (high school graduates and veterans) in engineering and architecture. Classes continued to mid-summer, after which a new session began in September — to both first- and second-year students. Approximately 3,000 engineering and architecture students were enrolled during the first two years at Ajax. The last classes at Ajax took place in May 1949. The work beyond the second year required facilities available only on the St. George campus.
The Ajax Division was a self-contained community, complete in every respect to meet academic, domestic, social, recreational and health needs. On the 446 acres there were 111 buildings, widely separated to accommodate the former shell-filling production lines. These structures were converted to yield 37 lecture rooms, 20 draughting rooms and 14 laboratories.
Students straight from high school had to provide their own financing, but war veterans received aid based on length of service and satisfactory academic progress. In addition to free tuition, a living allowance of approximately $60 per month was provided, from which room and board required approximately $10 per week.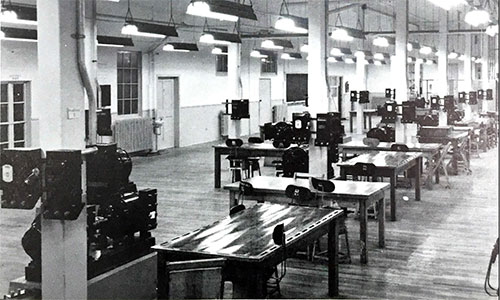 Ajax remembered
Today, a large boulder marked "Rock of Ajax" sits outside the Galbraith Building, and two floors called "Ajax House" are designated within Innis Residence to commemorate this unique period of U of T Engineering's history.
As a permanent and significant tribute to the success of their Ajax experience, Ajax House was substantially funded by members of the following classes:
Engineering – 4T9, 5T0, 5T1 & 5T2
Architecture – 5T0, 5T1, 5T2 & 5T3
Documents from the Ajax Division's 50th anniversary celebrations are archived on the Engineering Society's Skule™ Photos website.
---
The information on this page was sourced from Jones, L.E. (Ted). "The Ajax Adventure." Rock of Ajax Collector's Compendium (1994). Print.
More U of T Engineering History