Anna Dunets Wills
CivE 7T6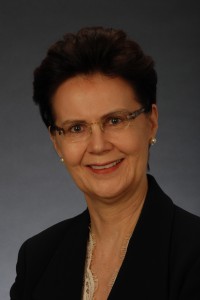 For Anna, civil engineering has always been a calling that gives her an opportunity to help solve problems where the need is great. It began when she was a U of T undergraduate and spent several summers building homes in remote First Nation communities in northern Alberta and British Columbia. It continued as she honed her civil engineering skills on projects in northern Manitoba and Lesotho, Africa.
In any of the infrastructure projects she takes on, Anna ensures the negotiations will result in work that truly meets local needs, respects cultural realities and is environmentally sustainable. Current projects — as a senior manager with planningAlliance — include resettlement plans near nickel deposits in Tanzania and a proposed dam in Lesotho.
Anna also uses her infrastructure expertise in a variety of volunteer activities. As part of a medical team working in Uganda, she has been concentrating on water, sanitation and related upgrades for a new clinic and maternity ward.
The Faculty's Gull Lake Survey Camp benefited from her generous advice and student mentorship during the creation of a sustainable wastewater treatment system. Anna has also been active with the North South Foundation for Children, which links professionals in southern Ontario with First Nations communities in the province's northeast.
Selected Achievements:
Meritorious Service Award, Engineers Canada, 2012
Citizenship Award, Professional Engineers of Ontario, 2011
Advisor, U of T team, Reinvent the Toilet Challenge, 2011–2012
Member, Housing Economic Development & Infrastructure subcommittee, North South Partnership for Children
Volunteer, EMAS Canada (Education, Medical Aid & Service)
Presenter, ASCE Conference on Cold Regions Engineering, 1989