Engineering Alumni Association Honourary Member: 1995 Recipient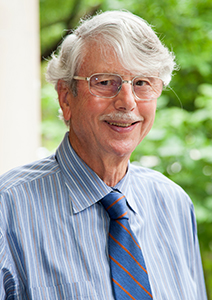 Former Dean and Professor Emeritus Michael E. Charles is an influential figure in engineering, education and academic leadership. He served as Dean of the Faculty of Applied Science & Engineering from 1993 to 2001, and has continued to be active, serving on the Board of the Canadian Institute for Photonic Innovations (CIPI), and undertaking assignments under the auspices of the Council of Ontario Academic Vice-Presidents and the Alberta Ministry of Advanced Education and Technology. A chemical engineer, with a BASc from Imperial College, London, United Kingdom and a PhD from the University of Alberta, he worked for the Research Council of Alberta and Imperial Oil before joining the University of Toronto.
His research focused on novel problems associated with the pipeline transport of complex crude oils and particulate solids which resulted in some sixty-five publications. Having served as a member of the Governing Council of the University of Toronto, on the boards of three of the Ontario Centres of Excellence, Charles is a Fellow of the Canadian Academy of Engineering, the Engineering Institute of Canada, and the Chemical Institute of Canada, and is a Senior Fellow of Massey College.