Dr. David S. Wilkinson
EngSci 7T2, MMS MASc 7T4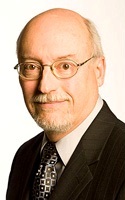 It is unusual, and indeed remarkable, to carve out a reputation through prolific contributions in two quite distinct fields of materials engineering: ceramics and metallurgy. David has done just that, adding to it an impressive career in academic leadership with McMaster University.
His pioneering work on the deformation and fracture characteristics of composites that include ceramic particles is just one of the ways he has used modeling and experimentation to raise the understanding of damage and stress on materials. Work he did with General Motors helped to enable the development of alloys that could effectively withstand the stamping process on the assembly line.
The results of his research have been published in more than 230 papers in the world's leading metallurgical journals, and he is a frequent contributor to international conferences. David is a Fellow of the Royal Society of Canada and the Canadian Academy of Engineering, as well as the American Ceramic Society and the Canadian Institute of Mining, Metallurgy and Petroleum.
Joining McMaster University in 1979, David became a department chair eight years later. In 2008, he was appointed Dean of Engineering, and, since last year, is Provost and Vice-President (Academic). Many young engineers who now occupy leading positions within academia and industry have been positively influenced by David's teaching, work and example.
Selected Achievements:
Rio Tinto Alcan Award, Metallurgical Society of CIM, 2012
Fellow, Canadian Academy of Engineering, 2010
Fellow, Royal Society of Canada, 2009
Distinguished University Professor, McMaster University, 2008
Canadian Materials Physics Medal, 2004
Dofasco Award, Metallurgical Society of CIM, 2004Fellow, American Ceramic Society, 2000
Fellow, Canadian Institute of Mining, Metallurgy and Petroleum, 1999