Engineering Alumni Hall of Distinction Award: 2016 Recipient
Paul Henderson
EngBus 5T7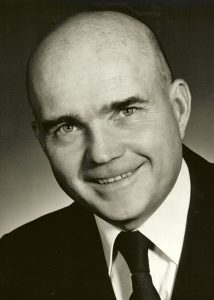 As a young boy spending his summers on Toronto Island, Paul Henderson dreamed of becoming a competitive sailor. His dream would become reality.
Henderson holds the record of having competed in all of the Canadian Olympic Sailing Trials from 1948 to 1984. He competed in three Olympic Games: 1964, 1968 and 1972, and would have represented Canada in 1980 if not for the Olympic boycott against the Soviet Union. He served for over 30 years in the International Sailing Federation (ISAF), the governing body for sailing officially recognized by the International Olympic Committee. For 10 years, from 1994 to 2004, he served as the ISAF's first non-European president.
In his professional life, Henderson transitioned his family's plumbing contracting business into a leading commercial food equipment company. The company grew to be one of the leading commercial food equipment service providers in North America. By 2000, the company had 80 employees and operated out of a 25,000-sq-ft facility in Toronto. Through a network of technicians and sub-agents it serviced equipment and distributed parts throughout the Ontario market. The customer base included convention centers, major hotels, casinos, entertainment facilities, golf courses, chain restaurants, restaurants and retirement homes.
At the turn of the century, Henderson sold controlling interest of the company to his employees and completed his career transition from the field of commercial food processing equipment sales and service to international sailing and sports management.