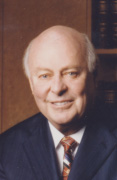 GeoE 5T9
Seeing an opportunity to create a major mining company through new mine development and strategic acquisitions, Norman has helped to grow Teck Corporation into a world-class mining entity that now employs more than 12,000 people worldwide. It's the most visible part of his legacy of economic growth, job creation and community leadership.
He joined Teck in the early 1960s, becoming President and CEO in 1981, then Chairman nine years after that. Throughout that time, Norman has been an outspoken advocate of safer working conditions, sustainable practices, and inclusion of northern and native communities. He is a Life Director of the Mining Association of Canada — apt recognition for his significant role in the creation of the association's environmental policy during his term as Chairman of MAC.
The Institute of Mining Engineering at the University of British Columbia is named in his honour. He has also helped secure funding for several research chairs at UBC as part of his efforts to ensure Canada continues to produce entrepreneurial and talented mining engineers and geoscientists.
Perhaps the greatest symbol of his strong commitment to Canada was encouraging Teck's involvement with the 2010 Olympic and Paralympic Winter Games in Vancouver. The corporation provided the gold, silver and bronze used to make the medals. Norman's contributions to organizations and causes are numerous, including support of Vancouver General Hospital and providing an earth science scholarship at the University of Western Ontario.
Selected Achievements
Order of British Columbia, 2012
Canadian Business Hall of Fame, 2012
T. Patrick Boyle Founder's Award, Fraser Institute, 2010
Mining Hall of Fame, 2004
Inco Medal, CIMM, 1999
Honourary Doctorate of Laws, UBC, 1993
Distinguished Service Award, Prospectors & Developers Association of Canada, 1990
Selwyn G. Blaylock Medal, CIMM, 1990

Businessman of the Year, Vancouver Jaycees, 1987
Mining Man of the Year, The Northern Miner, 1979