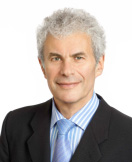 EngSci 7T0
IndE MASc 7T2
Throughout his illustrious career, Arthur has championed collaborations between engineering and medicine. In particular, he catalyzed research that teamed up U of T's MIE students with St. Michael's Hospital, where he is Vice-President, Research.
As a U of T Engineering student, Arthur was fascinated by the human body's complex system of chemical, biomechanical and other networks. Following his Engineering training, he completed medical school, and subsequently developed expertise in critical care medicine. After serving on faculty at Harvard Medical School, he returned to Canada in 1984, becoming a clinician scientist at Mount Sinai Hospital and U of T. Within four years, he was a full professor of medicine, with cross-appointments in biomedical engineering and surgery.
In 2000, Arthur became St. Michael's first research executive, transforming it into a world-class research centre. He played a key role in creating the Keenan Research Centre, the Li Ka Shing Knowledge Institute, and the Centre for Research on Inner City Health, a global leader that addresses the health needs of disadvantaged populations — the homeless, those with mental illness and those living with HIV.
Arthur was U of T's first director of the Interdepartmental Division of Critical Care Medicine, recently reviewed as one of the top two centres globally in critical care research. An acknowledged leader in mechanical ventilation, he chaired an international consensus committee that laid the foundation for how patients with respiratory failure are treated today.
Selected Achievements
Lifetime Achievement Award for Contributions to Critical Care, American Thoracic Society, 2012
Recipient of Queen Elizabeth II Diamond Jubilee Medal, 2012
Anne & Neil McArthur Research Award, St. Joseph's Healthcare, 2011
Scientific Accomplishments Award, American Thoracic Society, 2005
Chair, Advisory Panel for Respiratory and Anesthesia Devices, U.S. Food & Drug Administration, 1994–2002
Founding Director, Interdepartmental Division of Critical Care Medicine, U of T, 2000
Sandoz Senior Investigator Award, Department of Medicine, U of T, 1996
Elected, American Society of Clinical Investigation, 1987