The 7T6 Early Career Award: 2013 Recipient
Terence Michael Branch
CompE 0T3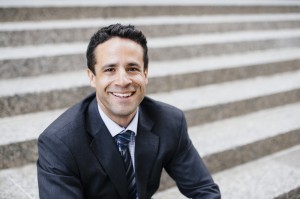 In less than 10 years, Mike has turned Inovex, a computer software company that he founded with classmate Bob Bradley, from a home-based operation to a vibrant company that develops software applications focused on the healthcare, energy and environmental sectors. Under his dynamic leadership, the Inovex team has developed solutions that help health care facilities collect and analyze patient information and help municipalities comply with the Ontario Green Energy Act. Inovex recently won two silver Stevie® Awards in the 2013 International Business Awards for its first 'software as a service' product, Maps BI.
Even as Mike has been expanding his company, he has never stopped giving his time and expertise back to U of T. He has been a member of the Engineering Alumni Association board since 2007 and served as president from 2011 to 2013. As a member of the College of Electors, he participated on the search committee that selected David Peterson as Chancellor of the University of Toronto.
Mike began his volunteer leadership as a student, serving as vice-president external of the Engineering Society. He and his company continue to support academic excellence and innovation. Mike has participated in entrepreneurship panels at U of T and supported the multi-university, student-run NSpire Innovation Network. His volunteerism extends beyond engineering to support youth drama programs and career development workshops for at-risk high school students.
Selected Achievements:
Ontario Professional Engineers Awards, Engineering Medal: Young Engineer Award, 2013
International Business Awards, Silver Stevie® Awards for Best New Software Product and Best Software Design, 2013
President, Hillfield Strathallan College Alumni Association, 2013
President, U of T Engineering Alumni Association, 2012–2013
Board Member, Streetwise Actors, 2011–present
Star Award, The Oakville Players, 2011–2012
Arbor Award, U of T, 2010
Mentor, DREAM, 2009–2010
Founder and CEO, Inovex, Inc., 2003–present
Developer of MyCellMyTerms.com, pitched on CBC Dragons' Den, 2009
Member, U of T College of Electors, 2003–2006