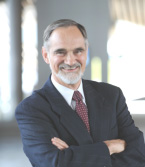 MechE MASc 6T9,
PhD 7T2
In four decades working with Hatch Ltd. engineering consultants, Chris has been both a leader and a technical innovator in the minerals and metallurgical field. In the early 1970s, he launched two specialized consulting units for the firm: Industrial Acoustics, and Fluid Mechanics and Heat Transfer. Twenty years later, he expanded Hatch's profile by establishing its presence in Russia and Kazahkstan, then Chile and Peru, and finally, China.
An advocate for sustainable development, he has contributed widely to the profession through his involvement in and leadership of the Canadian Institute of Mining Metallurgy and Petroleum, the Metallurgical Society, the Canadian Mining Innovation Council, and the China-Canada Business Council. His extensive publications on Capital Project Risks and Success Factors have been internationally recognized, and he wrote the chapter about Canadian engineering companies for the Metallurgical Society's 50th anniversary publication.
As an Adjunct Professor of Mechanical Engineering at U of T in the early 1980s and lecturer-presenter of technical papers all over the world, Chris has demonstrated a constant drive to teach, coach and explore new approaches and ideas in minerals and metallurgical engineering. His innovations have included developing a new way to maximize arsenic elimination when processing gold ores and creating a novel approach to ventilating large complex industrial buildings.
Selected Achievements
Board Member, The Canadian Mining Innovation Council, 2012–present
Member, Federal Green Mining Initiative Advisory Committee, 2010–present
President, The Canadian Institute of Mining, Metallurgy and Petroleum, 2010–2011
Director, Hatch Group of Companies, 2006–2009
Bishop White Lecturer, Royal Ontario Museum, 2007
Mineral Economics Award, American Institute of Mining, Metallurgy and Petroleum Engineers, 2006
Silver Medal, The Metallurgical Society of CIM, 2003
Canada Council Lecturer, ASM International, 1998
President, Metallurgical Society, 1996–1997
Director, Consulting Engineers of Ontario, 1992–1995