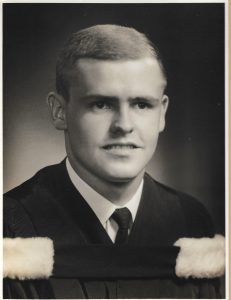 Paul Gardiner (Photo submitted by Ruth Gardiner)
Story by Heather Finley
Coming from modest means, the late Paul Gardiner (EngPhys 6T2) was deeply grateful for the bursaries and awards that enabled him to complete his Engineering Physics (Engineering Science) degree. In recognition of the impact this support had on him, his family is now honouring him with The Paul Gardiner Engineering Science Award, to be offered each year based on academic merit to an incoming undergraduate EngSci student, prioritizing students from Scarborough.
"Engineering Science is challenging, but Paul learned that through hard work you could accomplish your goals," says Ruth Gardiner, Paul's wife.
"He drew on this experience to inspire others to pursue their dreams, and he would be honoured by a scholarship in his name to help others interested in the program."
Paul, who passed away in 2022, was a lifelong science education advocate. To share his love of math and physics, he began teaching in the Toronto District School Board in 1963. He moved to the Scarborough Board of Education in 1966, and eventually served as principal for several high schools.
Paul worked hard to instill his love of learning in his own children and his students, and encouraged them to pursue higher education. But he also knew that financial barriers could prevent some students from following their dreams. By investing in the next generation of engineering leaders, his family's scholarship celebrates his personal history, career and values.
"EngSci's highly interdisciplinary and collaborative program provides such an excellent foundation for one's career," says U of T Engineering Dean Christopher Yip.
"Indeed, the impact that our alumni have, and continue to make, can be seen across an amazing diversity of fields — from biomedical engineering to education, just as Paul Gardiner did — and in every corner of the world. This gift will extend the benefits of an EngSci education to even more talented students for years to come."
Paul's simple beginnings did not prevent him from building a good life. His family's gift in his name will ensure that the best and brightest students have a similar opportunity to pursue engineering science and make their own positive impact on the world. This remarkable act of generosity and remembering will help young EngSci students for generations to come.