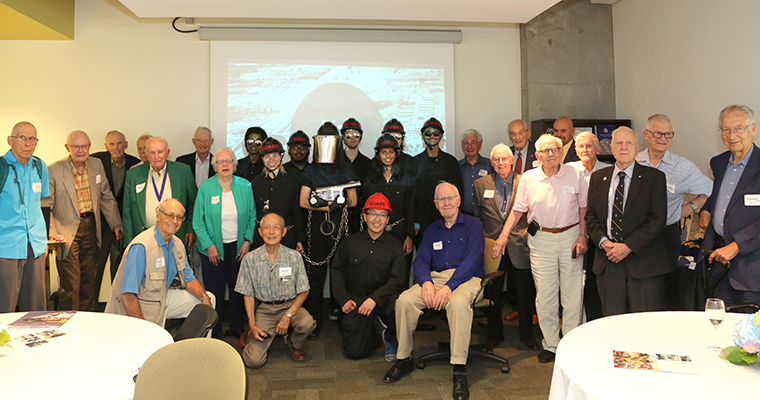 Many people today might not associate the town of Ajax with the University of Toronto. But for thousands of U of T Engineering students enrolled between 1946-1949, it was home.
On September 20, 2017, dozens of staff, faculty, students and alumni gathered at U of T's Bahen Centre for Information Technology for "Ajax Remembered," a reception celebrating a truly unique and important era in the Faculty's history.
Established to accommodate a surge in enrollment after the Second World War, the Ajax campus was created by converting an abandoned munitions plant. It opened its doors in January 1946, and over 1,400 students (nearly 400 more than enrolled in 2017), a mixture of Second World War veterans and high school graduates, were enrolled in the first-year engineering class.
For three-and-a-half years and four full academic cycles, the satellite campus educated and trained more than 5,500 Skule™ students.
"The Ajax campus was a remarkable place that did far more than accommodate the increase in enrollment," Dean Cristina Amon said. "It was a place where veterans returning from war could embark on new chapters of their lives, and where teenagers with relatively little experience in the real world could build their future. The bonds formed at Ajax have been vivid and enduring."
The Ajax alumni in attendance were noticeably moved to be together again in the same room, with many reminiscing about riding on the Green Dragon (the bus that transported students around the campus's 446 acres), lounging around the student centre, dubbed "Hart House Ajax," and competing in inter-residence sports. Alumnus Stanely McDowall (MechE 5T0) recalled how he even met his wife, Audrey, at an Ajax campus dance.
But perhaps nobody was more touched than Don King (ChemE 5T0), one of the Faculty's most dedicated Ajax alumni, who started his U of T Engineering degree at Ajax as a 17-year-old fresh out of high school.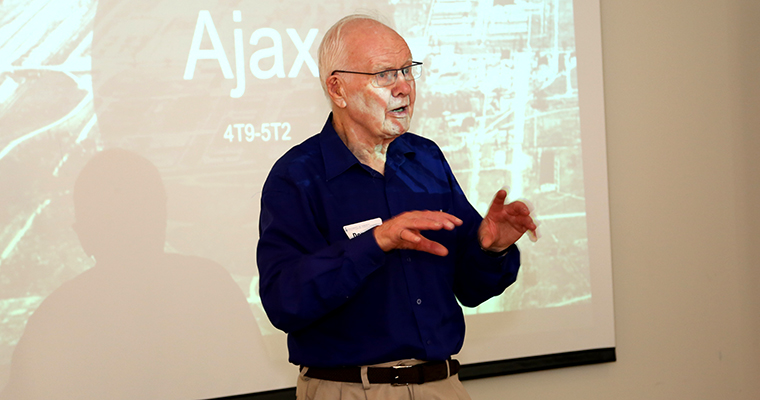 "Ajax was innovative and it was wonderful," King said to his peers. "Part of the proof of how special it was, is seeing all of you at this reception. I don't even know half of you, and that's OK! I'm delighted that you're here. And I welcome you warmly."
Today, a large boulder marked "Rock of Ajax" sits outside the Galbraith Building, and two floors called "Ajax House" are designated within Innis Residence to commemorate this unique period of U of T Engineering's history.
King and fellow alumnus Chris Hinde (CivE 5T0, MASc 5T3) led the campaign to name the Ajax House. And most recently, King has committed to matching Ajax donations towards a named space in the forthcoming Centre for Engineering Innovation & Entrepreneurship, as well as a scholarship and bursary in honour of the Class of 5T1.
"I've always known Ajax to be an important part of U of T's history, but watching you all — the way you came together today — it speaks volumes," said Sonia De Buglio (ChemE 9T4, MASc 9T8), director of alumni relations at U of T Engineering. "The camaraderie is  just so special."
---
View photos from the event on Flickr.