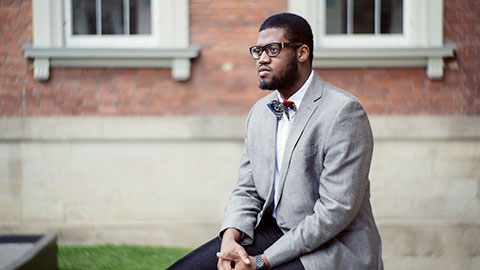 Andrew Forde (MSE 1T1, IndE PhD candidate) knows a thing or two about balance. He is currently juggling a multitude of roles as a graduate student, entrepreneur, philanthropist and musician. He's in the midst of pursuing a PhD in industrial engineering; CEO of Sommerlink Solutions, a big data consulting firm; founder of the Andrew Forde Foundation, a non-profit humanitarian organization; and a professional violinist who has shared the stage with Sting, Justin Bieber and Mary J. Blige, among others.
He's also just 27 years old.
Forde does it all—and he does it all well, while still making time to give back to his alma mater. In 2012, he established the Andrew Forde Polymath Award, an annual scholarship that provides financial assistance to an undergraduate engineering student, active in the Afro-Caribbean community, who excels in multiple areas of life beyond academics.
U of T Engineering's Jamie Hunter had a chance to sit down with Forde to discuss the importance of alumni engagement, embracing your talents and how it's never too early to give back.
You're a busy guy. How do you find the time?
I try to structure my life in such a way that nothing is too compartmentalized or firing on all cylinders at the same time. It happens occasionally but, for the most part, if I'm doing a lot with my PhD studies or running my company, I'm probably not doing as much as a professional violinist or leading my non-profit. I also try to structure things in such a way that there's a support team of people who can execute on the day-to-day tasks and move with it.
In addition to your professional and academic pursuits, you're also a philanthropist. Why was it important for you to start giving back at such a young age?
I just feel that it makes sense, with every little step forward, to give back and help out so that I'm fostering the next young group of leaders. Who knows if I'm going to live to be 50? I'm capable now, I'm alive now—I'll do what I can.
What does giving back to U of T Engineering mean to you?
It means a great deal for one main reason: I don't think I'd be in the position that I'm in if it wasn't for U of T Engineering. I'm a first-generation Canadian. My parents are from the Caribbean (my mother is Jamaican, my dad's from Barbados). They worked very hard to set the correct structures in place so I could gain a post-secondary education at an institution like U of T. At the same time, it's not as though they have direct connections to the world that I'm trying to involve myself in.
I'm not saying doors wouldn't have been opened without U of T, but the journey to get there would've looked a lot different. Being able to call a city councilor or someone who runs a hedge fund and say, "I'm a U of T Engineering student and I'd like an hour of your time," has been very, very instrumental for me.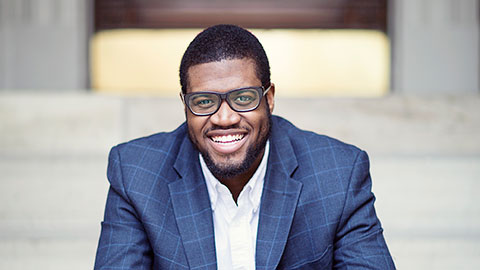 Can you recall a specific instance as an undergraduate student when you benefited from the philanthropic efforts of Skule™ alumni?
Numerous. I was the beneficiary of a couple of awards that helped to pay for my tuition. I was the president of NSBE (the U of T Chapter of the National Society of Black Engineers) and the only reason it ran was because there were donors who supported it.
My enrollment at U of T has opened doors and provided the framework for which people outside of the University have been able to help me, or my organizations, progress. Now that I'm in a position to start doing that, it's only right that I do. I feel like a lot of people wait until they are in different places in life to give back but it's not the mindset that I want to create. You don't have to have $1 million before you're able to give. You can start smaller and have your influence grow as you do.
What inspired you to establish the Andrew Forde Polymath Award for U of T Engineering students?
For the longest time, I really did try to compartmentalize my life. If you knew me as a violinist, you didn't know me as an engineer and vice versa. I made sure that everything was separate. Over time, it became pretty clear that a lot of people who interacted with me became interested in the other things I was doing. People are dynamic, and I had to learn to bring my interests together. I wanted to really fuse that way of thinking into the students coming up under me.
I'm sure there are students who have interests outside of engineering, but they might not feel as though it makes sense to develop those interests with the same passion or attention they give to their engineering studies. But you should truly develop and put your best foot forward in everything that you're capable of doing. It's the only way to truly flourish.
Do you have a specific mentor that drives you?
I have a few. I met Howard Shearer [chief executive officer, Hitachi Canada] as an undergraduate student in around 2008. What was supposed to be a one-time dinner turned into an open line to Howard, and he has been influential to me ever since. He's originally from Jamaica (my maternal ancestry), came to Canada, became an engineer and figured out a way to become a captain of industry—his existence is an inspiration. To this day, his wisdom and foresight, mixed with his humour and candidness, has provided me with a point of view I would not have had otherwise. As a first-generation Canadian, the networks of both the engineering and business landscape was not something that I walked into, it has taken the mentorship and support of people like Howard, who continue to open doors for me, and to show me what's possible.
Rudy Rollins is probably the smartest human being I have ever had the privilege to meet. He has lead Wi-Fi chip design and communication electronics for some of the world's largest mobile companies. He has patents galore and has a very unique approach to finding non-existent solutions. Rudy is my ear and second brain when I need to solve a problem or when I find myself in a situation where a strategic decision needs to be made. His intelligence pushes me to be better at everything I do.
Lastly, I need to add Ron Benson to this conversation. Ron is a scientist who has started and sold a few successful companies over the years. He has not only provided me with valuable wisdom, but has backed (along with Rudy) some of my early successes and failures.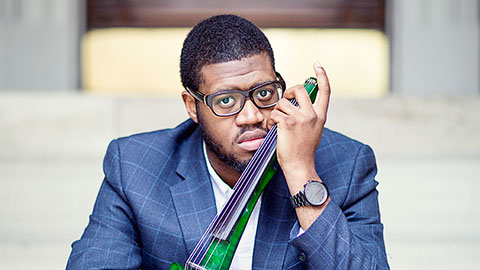 Engineering and music seem rather complimentary to one another. But is there anything you find in engineering that you don't find in music, and vice versa?
They say that math is very similar to music—everything is numbers at the end of the day. Everything can be broken down into some sequence. Math is the consciousness of music, and music is the feeling of math. Music has played a big role in my creativity in the engineering world. But at the same time, engineering has played a role in how I approach music—the way that I might deconstruct a thought or a song and develop it into something sonically that can be absorbed by the public. I think it funnels back into how I live my life in general. I don't want my life to be a series of events or data points that I go after or create. I want everything to flow or have some kind of rhythm to it.
You've achieved so much at just 27 years of age. Where do you see yourself in 25 years?
It's important to challenge yourself. Where I am at 27 is where I should be at 27. I don't compare myself to others. I stopped trying to forecast what's going to happen and I don't really set goals. What I try to do is create systems of support around me. It's less about where I'm going to be in 10, 20 or 25 years, and more about if I'm doing the right things today to enable a positive output in 25 years.
In 2012, Forde was the recipient of the Harry Jerome Young Entrepreneur Award from the Black Business & Professional Association. Learn more about Forde by visiting www.andrewforde.com.
— Jamie Hunter