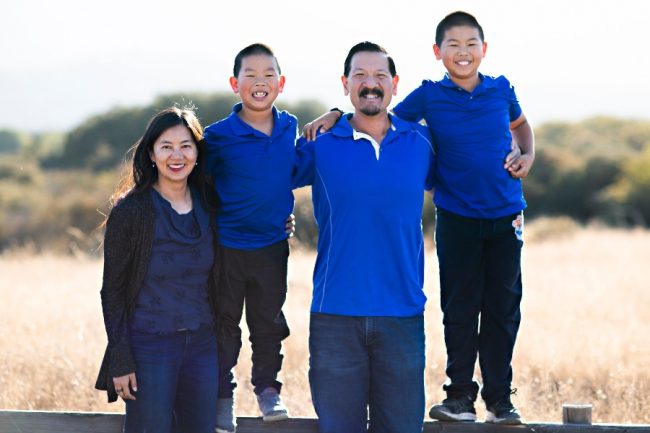 This story is featured in the new issue of Collective Impact, sent digitally to all U of T Engineering alumni.
U of T Engineering researchers and many of our alumni are at the forefront of global innovation. This fact is not lost on alumna Lauren Wu (IndE 9T3 + PEY), who cites the constant flow of exciting, new and revolutionary developments as a key reason for her longstanding support of the University.
"It makes me a proud graduate, and it certainly encourages me to remain involved with the school," she says.
Wu, who currently lives in San Francisco with her husband, Dave Liu, and their two children, has generously supported U of T Engineering in many ways. She made a gift to name a project room for students in the Myhal Centre for Engineering Innovation & Entrepreneurship and is now in the midst of establishing two endowed undergraduate engineering scholarships. Wu also helped facilitate a donation from her parents to benefit the Toronto COVID-19 Action Fund, launched by U of T to help University and hospital researchers find solutions to the global crisis.
The Faculty recently had a chance to catch up with Wu to discuss all the ways that she has remained an engaged and inspiring member of the U of T Engineering alumni community.
---
Is there a U of T Engineering alumna/alumnus/professor who inspired you to stay involved with Skule™?
Lauren Wu (LW): On the academic front, two professors stand out: Dr. Judy Farvolden (executive director of the University of Toronto Transportation Research Institute) and the late Dr. JGC Templeton (IndE). They both inspired me and provided me with valuable opportunities that enriched my academic experience.
On the professional side, it was U of T Industrial Engineering alumnus Michael Bell (IndE 8T4), who reached out to me in my graduating year to invite me to apply for a business analyst position at McKinsey & Co. — a company I had never heard of in a profession (management consultant) that was unknown to me. Working at McKinsey & Co. was instrumental in furthering my career and personal development.
I am forever grateful to all three.
You were an early member of the U of T Engineering CONNECT alumni network. Why? And how has it benefited you as an alumna?
LW: One of U of T's many strengths is its extensive and valuable alumni network. I joined CONNECT to keep in touch with the professors and students I met at Skule™, and also to make myself available to others who wanted to reach out to me.
Why should alumni remain involved with U of T Engineering?
LW: My parents always say it's imperative to give back to one's academic institutions, the community, etc. I benefited greatly from attending U of T, so it's only appropriate that I remain involved to see how I can pay it forward. I encourage others to do the same.
The reverse is also true: you can continue to benefit from staying in touch with U of T Engineering even if you are no longer studying there. U of T Engineering could inspire your next big idea, provide a fertile ground for hiring great employees and put you in touch with like-minded individuals who can further your career.
You helped facilitate a generous gift from your parents to further the University's COVID-19 research. What made you want to support this specific initiative?
LW: We need the best and the brightest to develop effective treatments as soon as possible, and U of T is well equipped to tackle the challenge.
What is the most important thing you took away from your engineering degree?
LW: The most important thing I learned from my engineering degree is problem solving and its application to real world problems. Given the complexity and interconnectedness of today's issues, it's imperative that we learn how to think and act critically and deconstruct otherwise unsolvable challenges. U of T Engineering provided me ample opportunities to practice and hone these skills.
---
Interested in supporting the Faculty of Applied Science & Engineering? Visit our Support Our Projects page or contact Kristin.Philpot@utoronto.ca