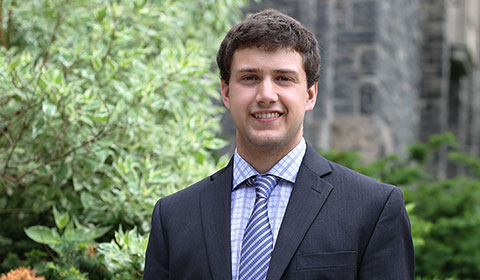 When recent U of T Engineering graduate Mauricio Curbelo (CivE 1T4) was in his second year, he helped lay the groundwork for one of the largest donations in Engineering Society (EngSoc) history.
He just didn't know it at the time.
As EngSoc's vice-president, external, Curbelo was part of a team that established the Skule Endowment Fund in 2011 – a fund generated by annual student contributions of $100 and intended to finance a variety of student-related initiatives.
It was this same fund that EngSoc drew from in 2013, under Curbelo's then-presidency, to donate $1 million to the Centre for Engineering Innovation & Entrepreneurship (CEIE), providing a dedicated space for student clubs to socialize, hold events and collaborate on group projects.
"The Engineering Society's generous commitment, under Mauricio's leadership, speaks volumes about our students' dedication to engineering excellence," said Dean Cristina Amon. "We are grateful for this remarkable demonstration of support, which proves just how vital the new collaborative space will be to future students."
U of T Engineering's Jamie Hunter spoke with Curbelo about the EngSoc donation, what it means for future students and his vision for the planned space in the CEIE.
How did EngSoc come to decide on donating to the CEIE?
It was never really a question as to whether EngSoc would contribute toward the CEIE. We had the money [in the Skule Endowment Fund] and that's what it was intended for. We thought it was a great opportunity to make a contribution, have a seat at the table, top up the project support and put the student space issue on the map.
EngSoc's donation is quite sizeable, especially for one generated from student funding. Why $1 million?
A $2 million donation was required to name the basement space of the CEIE. We donated $1 million and the University offered to match it. I think the Faculty would have provided student space no matter what, but to have it named after EngSoc sends a good message.
As an alumnus, you're not going to benefit from the space the way future students will. How do you feel about this?
When EngSoc was discussing the donation, not one person ever questioned: Why would we give if we won't enjoy it? It was never a consideration for anyone. And I think the more that you do outside of the classroom, the more you see the impact of alumni donations and their generosity. We all understood the impact that alumni had on us when we were still in school, so for us to be able to give back to future generations was really a no-brainer.
What's your ideal vision for the space? What do you hope future students will get out of it?
The ideal vision is for a versatile space that students are in charge of and maintain, and makes it easier to get involved and do things outside of the classroom.
The one thing that students asked for most when we ran our clubs was storage space. And it makes sense because most clubs are not designed to be huge – they're just small interest groups – and chances are they have supplies and a bunch of equipment they have to carry around. It makes a big difference to have one small locker somewhere on campus where they can keep that stuff. It makes it easier for those people to be involved and to balance school with extracurriculars.
The other important thing is for students to be able to easily book meeting rooms. EngSoc has always believed that the more things you do outside of the classroom, the more prepared you'll be for real-world experiences when you graduate.
When the CEIE finally opens and you have the opportunity to stand inside the EngSoc student space, how will you feel?
I'll be happy that we were able to do something that future generations can benefit from the same way that we currently appreciate what others have done for us. To now be on the giving end is a tremendous honour, not just for [EngSoc] but all the students who have generously given to the Skule Endowment Fund.
Read more about collaborative learning space in the CEIE.
— Jamie Hunter