Help shape the Class of 2T7
Each year, the Faculty of Applied Science & Engineering attracts impressive applicants from all over the world to join Canada's #1 engineering school as an undergraduate student. While each applicant's past academic performance is a critical factor in the admissions process, we firmly believe in the importance of understanding each prospect's full potential through their extracurricular activities and future aspirations. Applicants share this information with the Admissions Committee through an Online Student Profile, which includes brief written response and video submissions. The Online Student Profile is imperative to the Faculty's successful broad-based approach to admissions.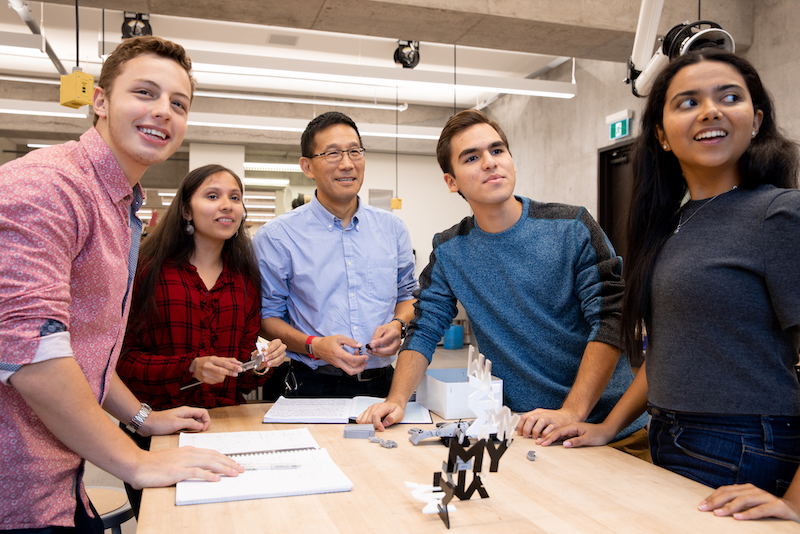 Interested alumni must:
Have an interest in engineering education
Value the Faculty's commitment to diversity
Possess impeccable communication skills
Have graduated at least five years ago (i.e. 1T7 / 1T6+PEY and earlier)
Have at least five years of professional work experience, including two years of interviewing and hiring experience required
Be able to commit 10 hours per month from late November 2022 to May 2023 (with peak times between December and March)
Participate in mandatory online/in-person training in late Fall 2022
Currently not have a relative or family member applying to the Faculty
Have any questions before applying?
If you're interested in volunteering as an assessor but do not meet the minimum professional experience requirements, please contact Rosemary Guido directly at rosemary.guido@utoronto.ca.
The Benefits
Over the past eight years, we've had over 275 alumni serve as alumni applicant assessors from across the world, many of whom have served for multiple years. In addition to being able to give back to their alma mater in a unique way, alumni find the experience of being an assessor a valuable and fulfilling part of their own professional development.
Howard Chan (ECE 9T7), Heba Chehade (ChemE 9T9 + PEY), Anne Fraser (IndE 9T3), Manu Sud (ECE 0T5 + PEY) shares their volunteer stories about the Alumni Applicant Assessor Program.

Ann Nguyen (IndE 8T6) shares her story as a volunteer for the Alumni Applicant Assessor Program.
Deadline Extended: July 31, 2022 (Applications closed)

In the application form, you'll be asked about your background, professional experience and why you're interested in serving as an alumni applicant assessor. Instructions are also included for how you can share your CV with the Admissions Committee. All prospective alumni applicant assessors who apply will be notified of their selection status by late September 2022.