2023 EAN AWARD NOMINATIONS ARE OPEN!
U of T Engineering enjoys a reputation as one of Canada's leading engineering programs thanks to the efforts of the students, faculty, staff, alumni and friends who make up our community. The EAN Awards celebrate and recognize alumni for their outstanding achievements. 
Nominate an outstanding U of T Engineering graduate
Nominating an alumnus/a for an EAN award is now easier than ever. We welcome submissions from all alumni and friends looking to recognize a member of the alumni community for their achievements. 
How to Nominate (3 Steps) 
Submit the EAN Awards Nomination Form found

here

Submit the candidate's CV and 2-3 Letters of Support to eanawards@engineering.utoronto.ca Please use subject line: EAN 2023 – Nominees First and Last Name
Additional Notes: Self-nominations are accepted; however, Letters of Support cannot come from the nominee. If a candidate does not have a CV, please feel free to use the Resume Replacement Form located here. Please remember to keep to a maximum four pages in length. For tips and suggestions on writing letters of support, please click here.
Nominations Open: November 4, 2022
Nomination Deadline: February 6, 2023 
Award Selection Deadline: Recipients will be selected in Spring 2023 and formally celebrated at the Fall 2023 EAN Awards Ceremony.  
The University of Toronto embraces Diversity and is building a culture of belonging that increases our capacity to effectively address and serve the interests of our global community. We strongly encourage nominations from Indigenous Peoples, Black and racialized persons, women, persons with disabilities, and people of diverse sexual and gender identities.  
2022 Engineering Alumni Network Awards Recipients
Engineering Alumni Medal
First awarded in 1939, the Engineering Alumni Medal is the highest honour awarded by the Engineering Alumni Association. High achievement is the common thread that links past recipients of this medal. In their diverse careers, these individuals have demonstrated superior accomplishments and have responded with flair and excellence to the challenges they have faced. They are outstanding role models for Engineering students.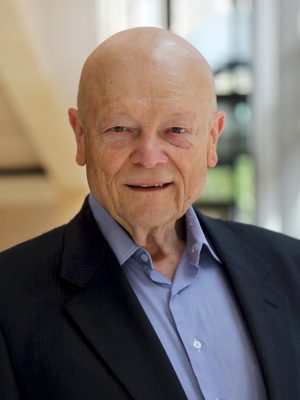 Joseph C. Paradi, ChemE 6T5, MASc 6T6, PhD 7T5
­Professor Paradi was born in Hungary and immigrated to Canada in 1957 as a teenager. He went on to earn three University of Toronto degrees in the Department of Chemical Engineering and Applied Chemistry and became one of the pioneers of today's interconnected computer world. In 1969 he founded a computer services company, Dataline Systems Ltd. The firm was involved in what was then called Time Sharing. He sold the company in October 1989 and subsequently joined the University of Toronto as an Associate Professor. He was promoted to full Professor in Industrial Engineering shortly thereafter and currently serves as Professor Emeritus in Chemical and Industrial Engineering. A dedicated entrepreneur, Professor Paradi has founded several Canadian companies. At the Centre for Management of Technology & Entrepreneurship (CMTE), which he also founded, Professor Paradi established a highly influential program for engineering students that prepares them with the real-world skills required to be an entrepreneur and practicing engineer.
Engineering Alumni Hall of Distinction Award
The Hall of Distinction is an assembly of extraordinary alumni, selected for membership by their peers for their lifelong accomplishments. These are graduates whose performances have ultimately defined what is most exemplary in our graduates and in our profession. The careers of the members stand as examples and add a sense of reality to the aspirations of successive generations of Engineering students. Located in the Sandford Fleming Building, the Hall of Distinction is a familiar daily presence in the lives of students and is often visited by alumni and their families.
Jonathan P. How, EngSci 8T7
Jonathan P. How is the Richard C. Maclaurin Professor of Aeronautics and Astronautics at the Massachusetts Institute of Technology. He received a B.A.Sc. (Aerospace) from the University of Toronto in 1987, and his S.M. and Ph.D. in Aeronautics and Astronautics from MIT in 1990 and 1993, respectively, and then studied for 1.5 years at MIT as a postdoctoral associate. Prior to joining MIT in 2000, he was an assistant professor in the Department of Aeronautics and Astronautics at Stanford University.
Dr. How was the editor-in-chief of the IEEE Control Systems Magazine (2015-19), an associate editor for the AIAA Journal of Aerospace Information Systems (2012-21) and IEEE Transactions on Neural Networks and Learning Systems (2018-21). He was the Program Vice-chair (tutorials) for the 2021 Conference on Decision and Control and will be the Program Chair for the American Control Conference in 2025. He was elected to the Board of Governors of the IEEE Control System Society (CSS) for 2020-22, is on the IEEE CSS Long Range Planning Committee (2022 – ), is a member of the IEEE CSS Technical Committee on Aerospace Control and the Technical Committee on Intelligent Control, was a member of the IEEE Fellows Selection committee for CSS (2021-22), and since 2021, he serves as the AIAA Director on the American Automatic Control Council. He is also the Director of the Ford-MIT Alliance and was a member of the USAF Scientific Advisory Board (SAB) from 2014-17.
His research focuses on robust planning and learning under uncertainty with an emphasis on multiagent systems, and he was the planning and control lead for the MIT DARPA Urban Challenge team. His work has been recognized with multiple awards, including receiving the 2020 IEEE CSS Distinguished Member Award, the 2020 AIAA Intelligent Systems Award, the 2015 AeroLion Technologies Outstanding Paper Award for Unmanned Systems, the 2015 IEEE CSS Video Clip Contest, the 2011 IFAC Automatica award for best applications paper, and the 2002 Institute of Navigation Burka Award. He also received the Air Force Commander's Public Service Award in 2017. He is a Fellow of IEEE (2018) and AIAA (2016) and was elected to the National Academy of Engineering in 2021.
---
Audrey 
Mascarenhas, ChemE 8T2
Audrey is President and CEO of Questor Technology Inc. (Questor) a public, international company focused on clean air and energy efficiency technology. Audrey has worked in energy and environment for over 40 years with Gulf Canada Resources Ltd., presently Conoco-Phillips and Questor. Through her leadership, she has focused on technology solutions to save lives and the planet. Audrey served as a distinguished lecturer with the Society of Petroleum Engineers (SPE) in 2010 and 2011. She holds a Bachelor's degree in Chemical Engineering from the University of Toronto and holds a Master's Degree in Petroleum Engineering from the University of Calgary. She is a fellow of the Canadian Academy of Engineers and sits on the Board of the TMX.
---

Doug Sinclair, EngSci 9T7
Doug has spent his career in the space industry and is privileged to have more than 100 satellites on-orbit today. After graduating from Engineering Science - Aerospace Option, Doug completed a MSc in Satellite Engineering from the University of Surrey in the UK. He then joined Dynacon Enterprises as an Electronics Engineer. At Dynacon he designed and built the power system for the MOST space telescope, as well as the attitude-control computers and reaction wheels for NASA's CHIPSat. Doug then founded Sinclair Interplanetary, a company that designed and built components for spacecraft. Sinclair Interplanetary grew quickly from a sole operation to a 10-person business supplying components for hundreds of satellites. In 2020, they were acquired by Rocket Lab, where Doug now holds the position of Engineering Fellow and Vice-President at Rocket Lab. A committed supporter of the Canadian space industry, Doug mentors young engineers and entrepreneurs through the Creative Destruction Lab.
---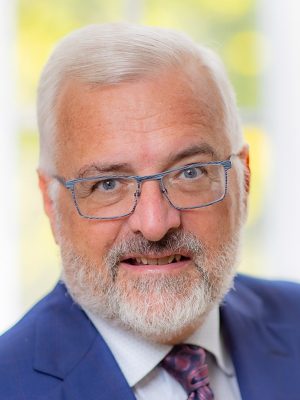 Daryl Wilson, ChemE 8T2
Daryl has had a 40-year career focused on sustainability and innovation. At DOFASCO, TOYOTA, ZENON Environmental, RGTL, Hydrogenics and the Hydrogen Council, Daryl led with innovative, first-of-a-kind change initiatives. Some examples include a Silver Award in Public Sustainability reporting at DOFASCO, a 100% water recycling program at TOYOTA, a 300% scale-up in operations for innovative water treatment technology at ZENON, and the world's largest new electrolysis project and the world's first hydrogen-powered public train service with Hydrogenics. In 2020 Daryl became Executive Director of the Hydrogen Council, a worldwide coalition of 150 CEOs of the leading companies in Hydrogen. Daryl serves on the Board of Directors of STELCO Inc and ESS Inc.
2T5 Mid-Career Achievement Award
The Class of 2T5 was the first class in Canada to receive iron rings at The Ritual of the Calling of an Engineer. Since 1975, the Class of 2T5 annually presents the 2T5 Mid-career Achievement Award. This award recognizes a graduate (11 to 25 years from undergraduate graduation) who has earned respect within the profession as well as the broader Canadian community.

Narinder Dhami, Skoll ElecE 0T5 + MBA 08
Narinder is an award-winning leader, Canada's Top 40 Under 40 and a BMW Foundation Responsible Leader. Her work spans across sectors and silos, bringing depth and rigour to drive social impact in North America and the Global South. She is the President of the Sonor Foundation and Executive Lead and Co-Founder of New Power Lab. Narinder has built, designed and scaled social ventures across the globe. In partnership with the Boston Consulting Group (BCG) she designed and led a venture philanthropy fund, LEAP | Pecaut Centre for Social Impact. Alongside Sandra and Joseph Rotman at the University of Toronto, she was the founding Executive Director and architect of Rise, a microfund for entrepreneurs with mental health and addiction challenges. For this work she was awarded U of T's Excellence Through Innovation Award. In the Global South, she worked in microfinance across Burkina Faso, Cote d'Ivoire, Mali and in impact investing in Ghana & Nigeria. In response to the Covid-19 pandemic, Narinder partnered with South Asian community leaders to launch the India COVID-19 Relief fund, which provided a vetted and efficient pathway to support India during the global crisis. She is a lecturer at Ryerson University and the University of Toronto. Narinder serves on multiple boards including the Community Foundations of Canada, Venture for Canada, The Circle, and CAFIID, and is an investor and advisor in several social ventures and impact initiatives.
---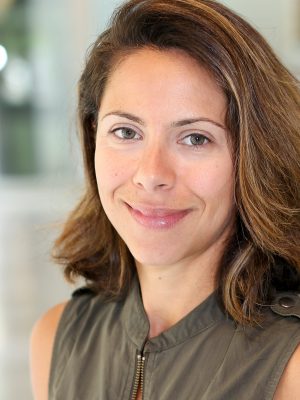 Marianne Hatzopoulou, CivE PhD 0T8
A Professor in the Department of Civil and Mineral Engineering, Marianne Hatzopoulou leads the Transportation and Air Quality (TRAQ) research group studying the interactions between transportation, air quality, climate, and health. She published over 140 publications on these topics. She is also the Director of Positive Zero Transport Futures, a living lab ecosystem for testing transport decarbonization innovations with positive societal outcomes. She received funding from provincial, federal, and international agencies to conduct integrative research in transportation engineering and public health. Prof. Hatzopoulou held a Tier2 Canada Research Chair in Transportation and Air Quality (2013-2021) and a Natural Sciences and Engineering Research Council (NSERC) Discovery Accelerator Supplement (2016-2019). She is on the Canadian team that received the 2021 NSERC Brockhouse Canada Prize for Interdisciplinary Research in Science and Engineering. She serves on the Transportation Research Board standing committee on Air Quality and Greenhouse Gas Mitigation as the committee research coordinator. She is also an associate editor of the journal Transportation Research Part D: Transport and Environment.
7T6 Early Career Award
The Class of 7T6 annually presents the 7T6 Early Career Award to engineering graduates who have attained significant achievement early in their career and shows promise of further contributions. The award is presented to an individual who is distinguished early in their profession, community, university and other related fields.
Phil De Luna, MSE PhD 1T9
Phil De Luna is a Sustainability Expert at McKinsey & Company where he advises executive leaders in corporations, governments, and non-profits on how to decarbonize their business to enable sustainable inclusive growth. Previously, Phil was Director, Materials for Clean Fuels at the National Research Council of Canada, where he built and led a seven-year, $57m collaborative R&D program focused on developing disruptive technologies to decarbonize Canada. He is a Governor General Gold Medalist, a Forbes Top 30 Under 30, a 2x TEDx speaker, a member of the Royal Society of Canada, an adjunct professor at the Department of Materials Science & Engineering at the University of Toronto, an Action Canada Fellow, and a former Federal MP candidate. He has appeared in several documentaries, co-hosts a podcast called "What's Next In…", and given hundreds of talks on sustainability, innovation, early career development, and diversity in positions of power.
Malcolm F. McGrath Alumni Achievement Award
Named in honour of Malcolm McGrath on his retirement as assistant dean — alumni liaison, this award recognizes contributions of personal service to the Faculty, the University or to the community. McGrath was the first assistant dean responsible for alumni affairs and development in the Faculty. Among his many accomplishments are the growth of the Annual Fund, the Engineering Open House, the introduction of the Skule™ Stage Band, and the establishment of the Graditude Campaign.
Mathew Szeto, CompE 0T4
Mathew has spent his career in the financial services industry and is currently the Head of Institutional Sales for Aquanow. His career has taken him to Europe and recently back to Toronto, but all throughout, Mathew has remained a dedicated volunteer to the Faculty of Applied Science & Engineering. An active volunteer and supporter of the Skule Nite community, Mathew has held the role of mentor, host of alumni watch parties, and on the Skule Nite 1T00 Organizing Committee which organized an endowment for students who are engaged with the show and a Skule Nite Fund. Mathew has also been a long-time volunteer of the ECE department, participating in undergraduate recruitment efforts and student development activities, has served on the College of Electors (2012-2014) and as a reviewer for the U of T Pearson Scholarship panel which selects recipients for the Lester B. Pearson International Scholarship. Outside of the University of Toronto, Mathew is a long-time volunteer and supporter of Massey Hall & Roy Thomson Hall and is a current member of the Massey Hall Revitalization Campaign Cabinet.
L.E. (Ted) Jones Award of Distinction
This award was established to acknowledge the contributions of Professor Emeritus L.E. (Ted) Jones and is in recognition of the contributions over his long and distinguished career to students, alumni and the Faculty. It also pays tribute to his continuing support and dedication to the Engineering Society and the Engineering Alumni Network (EAN) of the University of Toronto. The award endorses Jones' great appreciation of the arts and his love of music.

Stephanie McDonald, MechE 2T2 (she/her)
Stephanie has been an active participant in the U of T arts community since 2018, when she joined the cast of Skule Nite. Since then, she supported the creative team as the Assistant Vocal Director (where she met corecipient Mack Seward) in 2019, and returned to the cast for the next two years while writing sketches. As a returning cast member in 2020 and 2021, Stephanie's leadership and commitment to arts inclusivity in engineering helped the show rise to the challenges faced by the COVID-19 pandemic. As the Director for Skule Nite 2022, Stephanie led her team into the new frontier of a film studio for the show with an emphasis on diversity and creativity in storytelling. Similarly, in her time in the Orientation committee at the sub-committee and executive levels, she focused on leadership and mental health and wellness through creative and engaging training.
---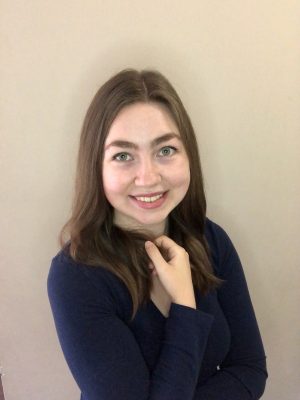 Mackenzie Seward, EngSci 2T2
Mackenzie's love for the performing arts has driven her to be involved in many aspects of the SkuleTM community. In her first year at U of T, she participated in SkuleTM's Got Talent, both in a performance with the Skule Dance Club and with a solo singing and piano performance. She later joined Skule Nite and was a part of their team for four years. Her roles as Vocal Director, cast member, and most recently as Assistant Producer, gave her the opportunity to get involved in musical sketch comedy production, both for theatrical and filmed performances. Mackenzie's time working alongside her peers to create art has been one of the highlights of her time at U of T, and she hopes to remain involved in the performing arts while pursuing her engineering career.
Engineering Alumni Network Scholarship
Presented to a part-time or full-time student in good standing, proceeding to 2nd, 3rd or 4th year in any program in the Faculty. Recipients are selected based on the demonstration of a passion for engineering-related design, creativity and innovation as exhibited by involvement in the Skule™ community through design-related extra-curricular activities, co-curricular involvement and/or entrepreneurial pursuits.

Amy Bagrin,CivE 2T4
Amy Bagrin is a third-year Civil Engineering student at the University of Toronto, currently pursuing a minor in Engineering Business. During her time at U of T, she has grown as a leader and gained a love for the Skule community at large. She aims to deliver equitable and accessible F!rosh Week programming to the incoming first-year engineering students through her work for the finance portfolio of the Orientation Committee, starting as a subcommittee chair and moving on to be the Vice-Chair Finance. She also organizes events and initiatives for her peers through her work for the Civil Engineering Club. As the former Social Director and acting Vice Chair, she engages and strengthens the Civil Engineering student body, representing their interests to the department and faculty. In 2022, Amy served as a captain on the U of T Troitsky design team, leading her team to victory at the national Troitsky Bridge Building Competition. Upon graduating, Amy hopes to continue her work in drinking water treatment through the water resources management stream or further explore business in the construction management industry.