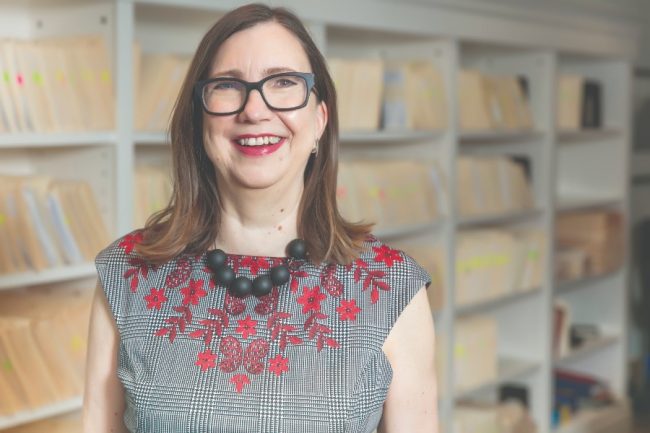 This story is featured in the new issue of Collective Impact, sent digitally to all U of T Engineering alumni.
Alumna Nancy Hill (CivE 8T1) has met many inspiring students and alumni over the course of her involvement with U of T Engineering.
But one particular student stands out to this day.
"He had noticed that, for many students, purchasing a suit was a big budget challenge," says Hill, a professional engineer, lawyer, patent agent, trademark agent and founding partner of the firm Hill & Schumacher. "He collected second-hand business clothes from Bay Street and sold them at a discount to students for their job interviews. I believe that the money raised was donated to a charity."
Hill was equally impressed with the student's foresight to mentor a successor for the charity when he graduated.
"His story made me reflect on my days in fourth year when my classmates seemed to be in their first suits and very uncomfortable as they were dressed for their job interviews," she says. "The charity seemed to be serving a real purpose. I also learned that they did not have a lot of business clothes for women, so I went home, went through my closet and donated some items.
"I often think of that young man — his vision, leadership and enthusiasm were inspiring." It's one powerful example of the give-and-take of alumni-student connections from a U of T Engineering graduate who worked tirelessly to affect positive change as Professional Engineers Ontario's 100th president in 2019. Hill was also named one of Canada's Top 100 Most Powerful Women in 2017.
She spoke to Collective Impact about the many benefits of staying involved with her alma mater.
---
Your firm, Hill & Schumacher, gave generously in support of The Hatchery, U of T Engineering's startup hub. What made you want to support this specific initiative?
Nancy Hill (NH): As a patent and trademark firm, Hill & Schumacher works with a wide range of innovators and entrepreneurs across a variety of sectors. We are particularly interested in fostering these skills at the University of Toronto. As well, my business partner, Lynn Schumacher, and I are both alumnae of U of T. We are interested in giving back to our alma mater in a tangible way.
What has been the most rewarding aspect of your involvement as a U of T Engineering donor and volunteer?
NH: Meeting the people. I find it both inspiring and invigorating to meet with the alumni and students of U of T. Lynn and I met recently with some of the beneficiaries of our support. I have been a judge for a number of the Hatchery Demo Days. It's been inspiring to see the projects and to meet students who are so incredibly thoughtful and engaged with their community. I feel that we are in good hands.
Why should alumni remain involved with U of T Engineering?  
NH: Getting involved with U of T gives you an opportunity to give back. You can meet people in a wide variety of sectors and at different career stages, and learn about development outside of your sector. Later on in your career, it can widen your circle and help to identify new hires. It will serve to increase your business network.
Tell us about some of the volunteer roles and experiences at U of T Engineering that have had a positive impact on your professional life.
NH: Hill & Schumacher's client base includes U of T, startups from U of T, professors and alumni. In my business, word of mouth makes a huge difference and being involved with the University definitely helps.
Also, being involved with U of T really gave me the opportunity to work on my soft skills — something that is extremely beneficial in business. Again, these benefits are somewhat intangible but they are profound.
What advice would you give to young alumni and current engineering students who aspire to have a successful career like yours? 
NH: Get involved. Seek out opportunities that push you outside your comfort zone, giving yourself an opportunity to grow. Seek opportunities that will help build alternate skills to those that you are gaining in school and work. And remember to network. You never know who you will meet!
---
Interested in learning about the ways to get involved with U of T Engineering? Contact Director of Alumni Relations, Sonia.DeBuglio@utoronto.ca