Volunteering your time and expertise is an easy way to make a difference in the life of a student and your alma mater's vibrant community. We have many rewarding student-focused, Faculty-level and University-wide volunteer opportunities for alumni. Make a connection, share your experiences and inspire the next generation of engineers today.
Current Opportunities
Position Title: Regional Ambassador, EAN Alumni Engagement Committee
Division: Faculty of Applied Science and Engineering
Department: Alumni Office and Engineering Alumni Network (EAN) Board

Purpose

As a Regional Ambassador of the University of Toronto Engineering Alumni Network (EAN) you will have an incredible and rewarding opportunity to give back to the university. With help from the Alumni Office, members of the EAN and its associated committees, you will help enable alumni and students around the world to pursue big ideas, find their next challenging job, or engage in intellectual and social discourse.

We are looking for alumni in areas around the world to volunteer as Regional Ambassadors. If you are interested, please complete the following form.

Responsibilities

As a Regional Ambassador:

You will act as a liaison for University of Toronto Engineering alumni and students around the world. You will be responsible for improving relationships between alumni, students, and the university.
You may also play a role in some recruitment and admissions events.
You may also work with student groups and other university initiatives to provide speaking, mentoring, and professional opportunities to fellow alumni and students.
You will work closely with the EAN and the Alumni Office to build out the regional portfolio that is best suited to your area and skillset. Each regional ambassador role is unique to the region where you live.
You will act as the first point of contact for questions that could come from alumni or students that live in your region.
Interested in becoming a Regional Ambassador? Fill out the form here today! Full position decsription available here.
Ongoing Opportunities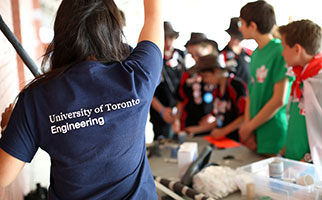 Support U of T Engineering
Departments are always looking for influential alumni to speak at events and provide counsel.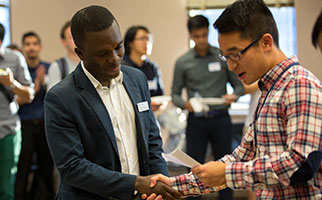 Engage with students
Experienced and professional alumni are an invaluable resource as career mentors for students.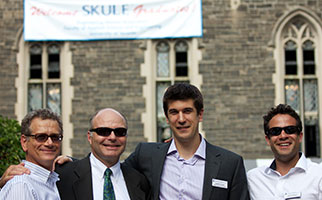 Shape the future of U of T
Make a difference on a University-wide level with a variety of programs open to Skule™ alumni.