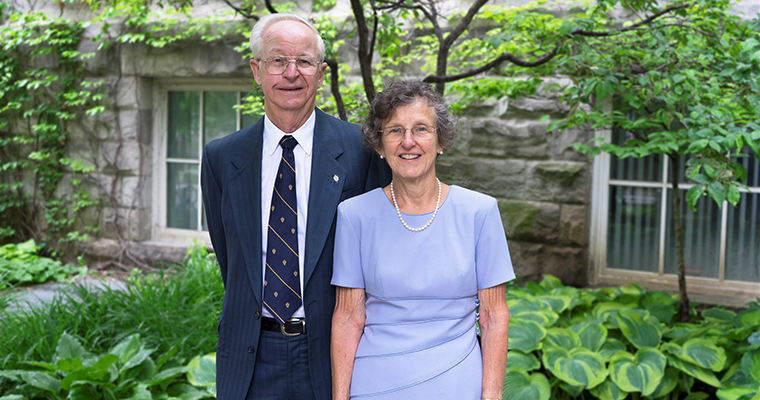 It wasn't until Lauri Hiivala (ElecE 6T5) retired that looked back on his undergraduate education as the cornerstone of his career.
"I realized then how grateful I was for the education I received here," says Lauri, who spent more than 43 years at Canada Wire and Cable (now Nexans Canada).
Last year when his wife, Jean Hiivala, inherited money from a family member, she decided to make a gift to the department her husband had graduated from. The couple had long been engaged with both the The Edward S. Rogers Sr. Department of Electrical & Computer Engineering (ECE) and the Faculty by attending events, volunteering with Skule™ Lunch & Learn and as members of U of T Engineering's leadership giving circle, the Skule™ Society.
"I knew we didn't really need the money to live, we have a comfortable enough life," Jean says. "I thought, we should give it to the University of Toronto — I wanted to make sure the money went to work, making a difference."
The Hiivalas decided to direct their funds to three distinct areas within ECE.
"Initially, the intention was that we would donate $100,000," Jean says. "But after we heard a number of options, we felt we had a special connection to each of them and decided to increase the gift to $200,000."
"The depth and breadth of the impact that this gift will have on the Department is truly remarkable," says Professor Farid Najm, chair of ECE. "But what is extraordinary is that their gift will make a difference well beyond the laboratories and lecture halls here — they are funding areas that will have a positive impact on society."
Lauri knows first-hand the impact that a scholarship can have on a student.
"I came from very modest means, and it was a scholarship that allowed me to study electrical engineering at the University of Toronto more than 50 years ago," he says. "It appealed to us that funding an endowed undergraduate award would help students in financial need."
Under the University of Toronto's Boundless Promise Program, the income from their endowment is matched, enabling more students to receive the Jean & Lauri Hiivala ECE Undergraduate Award.
The couple has been passionate about ECE and both Lauri and Jean hope to see enthusiasm for the discipline continue in future generations.
"We knew that one of ECE's funding priorities was the DC Microgrid project in the Energy Systems Lab," Jean says. "Learning about the generation and integration of renewable energy into the grid is not just important for the next generation of electrical engineering students, but for generations to come."
The Hiivala's gift funded the purchase of a large advanced battery for the new DC Microgrid.
When the Hiivalas learned about a nascent research project led by Professor Piero Triverio (ECE) that would explore how computer simulations can help to identify why heart bypass grafts fail in patients with coronary artery disease, they felt compelled to support this research area. The project was the perfect marriage between engineering and health care, and honouring Jean's career as a nurse. This particular subject was also very close to their hearts; Lauri's in particular.
"Lauri had bypass surgery in 2011, so this research project piqued our interest." Jean says.
But it was only after the Jean & Lauri Hiivala Research Fund for Heart Health was established that the couple learned that one of the collaborators on Professor Triverio's project is Dr. Stephen Fremes — the surgeon who performed Lauri's bypass operation.
"It doesn't get much closer to our hearts than that," Jean says.
When it comes to philanthropy, Jean and Lauri Hiivala always follow their hearts.
---
This story was originally published by The Edward S. Rogers Sr. Department of Electrical & Computer Engineering.