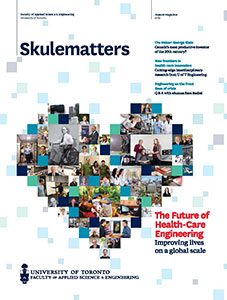 Skulematters
Skulematters is the Faculty of Applied Science & Engineering's annual alumni magazine, published for its alumni, faculty, staff and friends. Each issue is distributed to over 36,000 readers.
Newsletter Archive
Engineering Alumni News lets you stay current on the latest news and stories from our Skule™ community.
Alumni Features
Read more Engineering Alumni news features.
U of T Engineering News
[hungryfeed url="https://news.engineering.utoronto.ca/feed/?tag=alumni" item_fields="title,date" feed_fields="" max_items="5″ date_format="F d, Y"]
Read more Engineering news.