Effective leaders need to be tactical, analytical and empathetic — three traits emphasized by a panel of business executives at BizSkule's From Crisis to Opportunity: Leadership for Challenging Times.
On May 27, Claudio D'Ambrosio (ChemE 7T9), Constantine Karayannopoulos (ChemE 8T3, MASc 8T8) and Ted Maulucci (MechE 8T9), painted a vivid picture of the high-stakes pressures of leadership for a gathering of alumni, faculty and students at Bennett Jones' law office in Toronto's First Canadian Place.
This was the second installment of 2015 for the esteemed keynote speaker series, which kicked off in California with a panel on wearable technology in February.
Adversity builds companies
Each of the leaders experienced significant business challenges during the global financial crisis of 2008. D'Ambrosio, retired chairman, president and CEO of Arclin Cayman Holdings Ltd, was concurrently leading his company through Chapter 11 bankruptcy and the Companies' Creditors Arrangement Act process, Karayannopoulos, chair of Molycorp, was caught in the middle of a hostile takeover, and Maulucci, chief information officer of Tridel Corporation, watched a major innovation partnership opportunity dissolve.
But persistence, planning and a positive outlook helped each panellist succeed through business crises — and the adverse circumstances, in turn, led to a more positive workplace culture.
"Adversity helped to shape the company and added to its cultural backbone," Karayannopoulos said. "Experience adds to your arsenal. If you have faced adversity and succeeded, it makes the second crisis a little less of a crisis."
"You just can't give up," Maulucci said. "When you believe in something so much, you have to pursue it … But when you're in the middle of it, it's really hard. And you can get there, but you have to let your ego go and believe in what you are doing."
"Keep your eye on the goal, be positive, communicate and make sure people understand their roles," D'Ambrosio said. "Just keep moving forward."
The power of engineering
The panelists credit their engineering education for providing them with the essential tools for effective leadership.
Maulucci developed his tenacious work ethic and his ability to succeed under pressure during his time at U of T Engineering. D'Ambrosio — who knew that he wanted to be a chemical engineer from the time he was in the sixth grade — said engineering taught him to look at problems as opportunities. Karayannopoulos echoed that sentiment.
"Engineering really teaches you how to approach every problem," he said. "It's easy to get to a solution if one exists. Engineering forces you to be analytical. And you can take those skills and apply them to anything that you do, whether you are riding a bike or running an organization."
More than just hard work
It's easy to overlook one's ability to emotionally connect with colleagues when striving for excellence. But the ability to relate to people on a personal level is an indispensible skill that leaders should possess, all three panellists agreed.
Competencies, hard work and dedication only get you so far in an organization, Karayannopoulos said.
"In order to get to the upper echelon, the C-Suite, there's only one test they give you: an emotional intelligence test," he said. "And if you fail it, you don't go any further. There are a lot of very smart, very competent people who don't make it."
The evening's moderator, chemical engineering professor Doug Reeve (ChemE) — who also serves as director of U of T's Institute for Leadership Education in Engineering (ILead) — told the panel the Faculty introduced a new ILead course this year for graduate students on emotionally intelligent leadership.
Maulucci emphasized that in addition to emotional intelligence, students and new grads need to learn to collaborate.
"I've noticed an unfortunate pattern where students are so competitive with their grades that they are trying to undermine each other," he said. "If you do that in the business world, you're done."
Regular habits of successful leaders
All three panellists exercise regularly to stay sharp on the job. Here are some other secrets to their success:
D'Ambrosio: There's more to life than work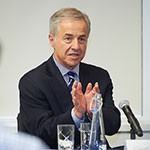 "Work is essential. Work provides stimulus and puts food on the table and other necessities of life, but there is more to life than work. I work very hard and expect others to work as hard, but, unless there was a crisis, I've never sent an email on the weekend."
Karayannopoulos: Head out on the highway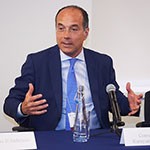 "I ride a motorcycle. When I'm on the bike, I cannot think about my job or anything else. The only thing that matters is the next turn and the speed at which I am going to approach it. But at the same time, it allows me to clear my head, which is very important.
Maulucci: Take the middle path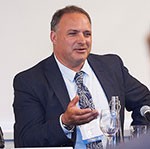 "Somebody from the office recently turned me on to reading about Buddhism, and I found that it settled my mind."
Find out more about U of T Engineering's BizSkule keynote speaker series. 
— Jamie Hunter